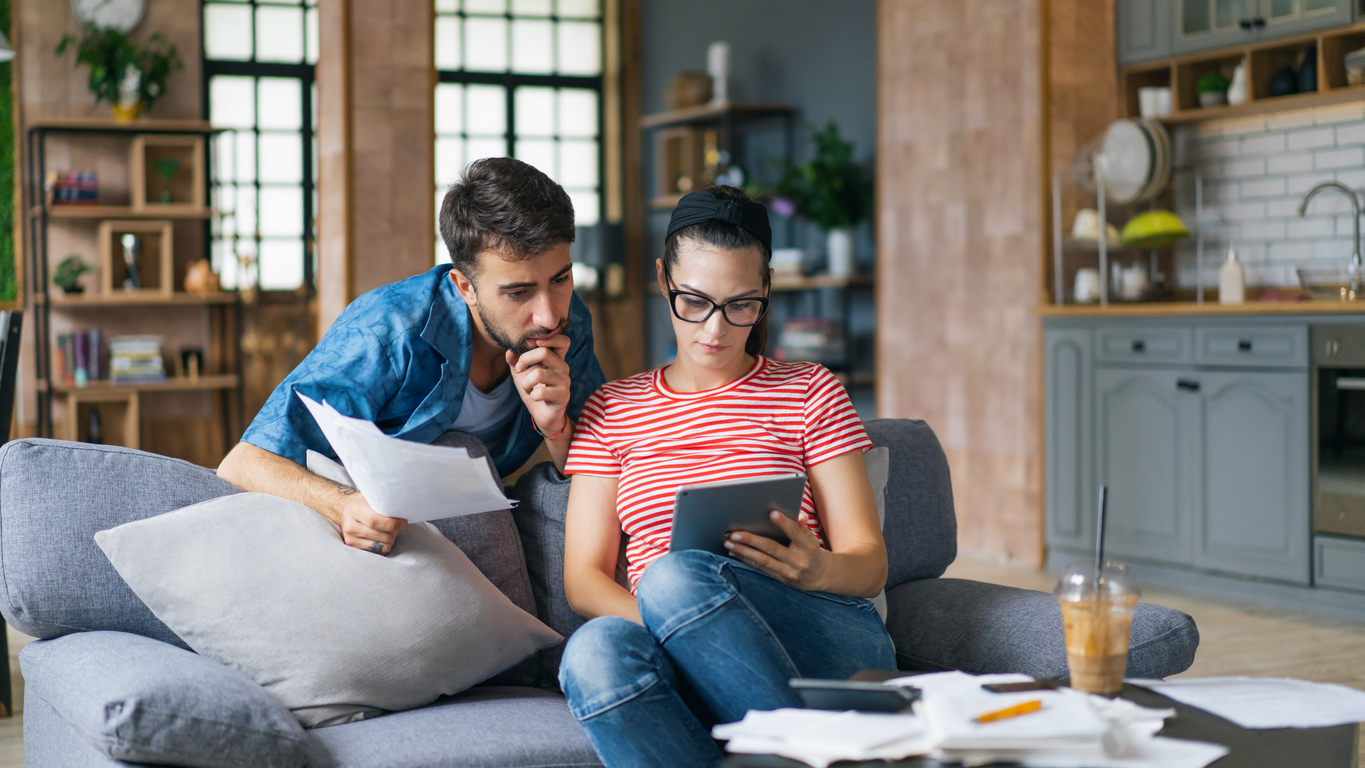 UK Mortgage Landscape 2023
ONS data suggests that over 1.4 million UK households will face the prospect of higher interest rates when their fixed-rate mortgages come to an end this year, alongside the impact of the ongoing cost of living crisis.
We commissioned a study to find out more about the concerns of UK homeowners following the sharp increase in interest rates that has directly affected mortgage repayments. We also wanted to know how these increases have impacted spending among homeowners as well as what changes, if any, they'll be making to be able to afford repayments.
For those already struggling with the cost of living crisis, it's likely we'll see an accompanying rise in the number of people getting into financial difficulty as many may not be able to afford their repayments on top of already increasing costs.
Key findings
53% of homeowners are currently on a fixed-rate mortgage, making it the most common type of mortgage

18% admitted that they will not be able to afford their repayments after they remortgage

42% of respondents worry about not being able to afford their mortgage and will make cuts to non-essential spending

The survey identified the main cutbacks for homeowners; these include restaurants and eating out, salon and beauty treatments, clothing, and travel and holidays

41% are considering dipping into their savings to be able to afford their mortgage, while 39% said they're considering a second job or side hustle to meet repayments

Before remortgaging; almost a third (29%) of respondents said they had between £300 and £500 disposable income

After remortgaging: 27% said they would only have between £100 and £300 disposable income
Most common mortgage types
We wanted to see what types of mortgages UK homeowners were currently on and it was no surprise that a fixed-rate mortgage came out on top, with over half (52%) of respondents saying they're currently on this type of mortgage.
Interestingly, the second most common type was the generally more expensive type; the standard variable rate mortgage at 19%. This could be due to the fact that many people may be expecting rates to go down again, and are waiting to find out what they'll be when the market has calmed down before securing a fixed-rate deal.
The most common types of mortgages: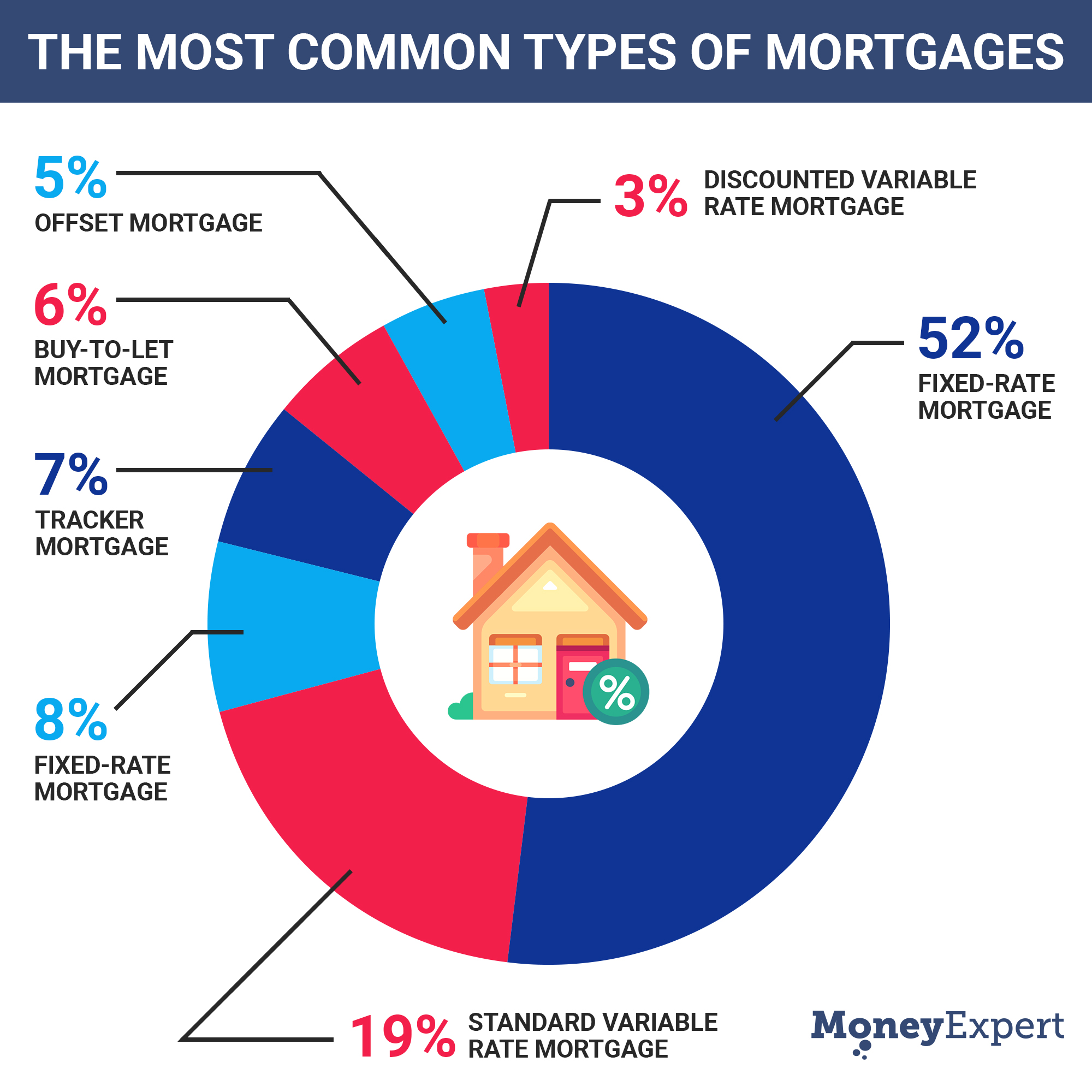 Mortgage affordability insights: How concerned are UK homeowners?
When asked how concerned they are about the future affordability of their mortgage repayments, it looks like the majority of respondents (87%) are concerned about mortgage rate increases in general. This is no surprise given the current cost of living crisis we're living through and how that, along with increased mortgage rates, may impact their day to day lives.
However, when it comes to affordability, over two-fifths (42%) are concerned about being able to afford their mortgage repayments when they increase and admit that they will have to cut back on non-essential spending. Almost one in five (18%) said that they're currently struggling with mortgage repayments and a further increase will make them unaffordable.
Almost a third (27%) said that while they are concerned about an increase in mortgage repayments, they should just about be able to afford them and don't think they will have any problems with affordability. A small number of those surveyed (13%) aren't concerned about increases, and admit they'll have no problems affording their repayments when they remortgage.
What changes are homeowners making to make mortgage repayments more affordable?
With rising costs coming at homeowners from all angles, we wanted to know if they would make any changes to their spending to be able to afford mortgage repayments. We also wanted to know if there was anything else they'd consider doing to save money and make repayments more affordable.
Spending cutbacks
Our findings have revealed that homeowners will need to make monthly cutbacks to non-essential spending just to meet rising mortgage repayments.
When asking mortgage borrowers what they're most likely to spend less on, visiting restaurants topped the list, with over half (52%) suggesting they would cut back on dining out in order to pay their mortgage.
We love to travel and many families spend a large amount of their money on holidays both at home and abroad, with the average cost of a single trip coming in at £857 in 2022. However, our survey revealed that 46% of households will be cutting their spending on travel and holidays to be able to meet their monthly repayments thanks to rising mortgage costs.
Spending on clothing will also take a hit, with 42% suggesting they would look to save money by reducing costs on non-essential clothes and footwear. Personal grooming and wellbeing spending is also likely to reduce in the coming months, with over a third of respondents (35%) saying they're going to cut back on visits to salons and beauty treatments.
Apart from a mortgage, one of the biggest expenses for many people is most likely to be their car. It's no surprise then that some households won't be spending their disposable income on a new car for the time being, with 28% saying they would delay purchasing a new vehicle due to the rising mortgage repayments.
The top eight expenses UK homeowners are cutting back on: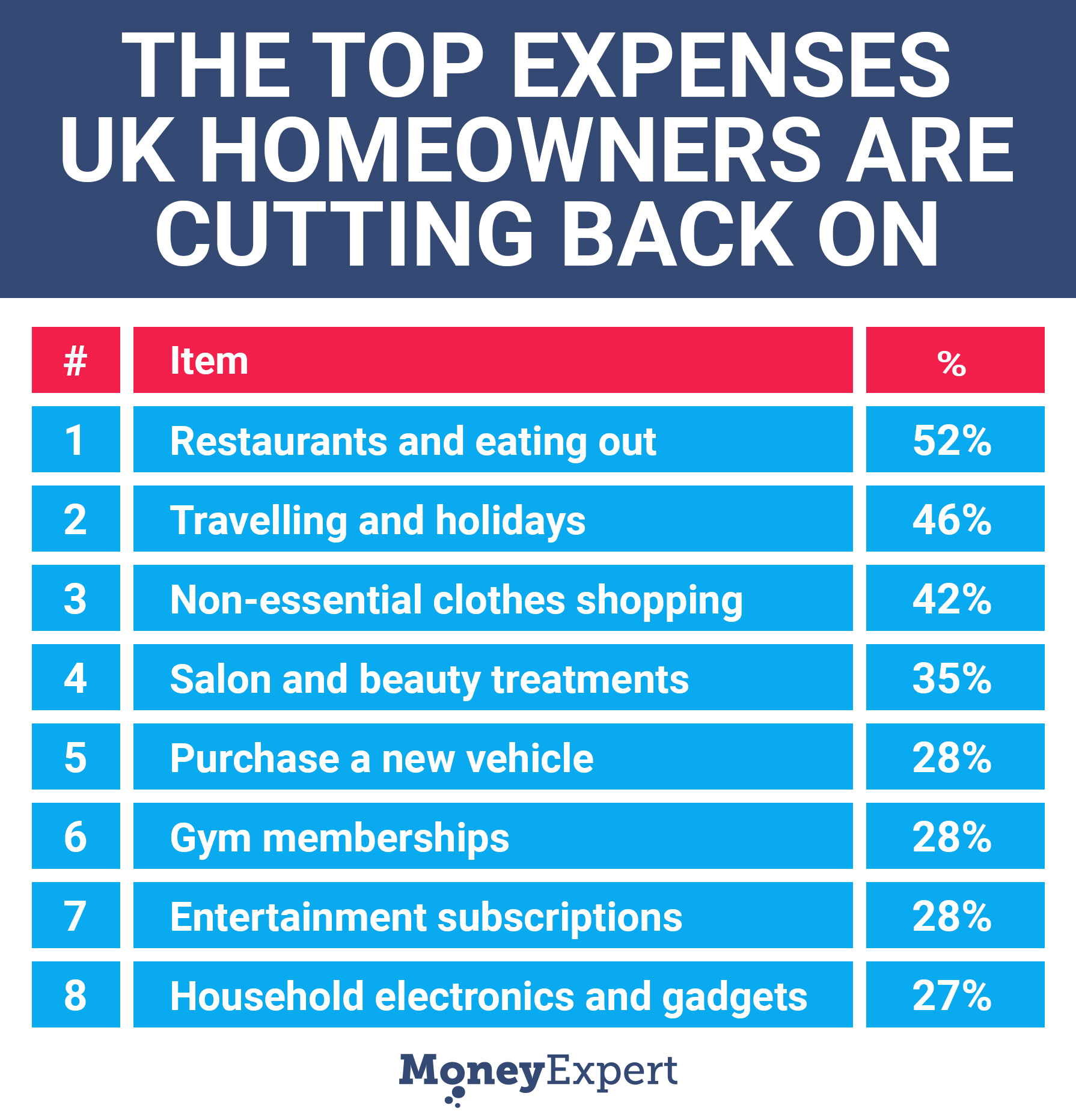 Switching to a different product
Switching to a different mortgage product can sometimes make repayments more affordable. We asked if this is something respondents would do, and if so, what product they would switch to. Surprisingly, 18% of those surveyed said they wouldn't consider switching to a different mortgage product.
Of those who would switch, over a third (38%) said they'd switch to a fixed-rate mortgage, while 13% would swap to a standard variable rate mortgage.
Other changes homeowners are making
We also asked whether people would consider other ways to be able to afford their mortgage repayments - with some surprising results.
Two in five (41%) are considering dipping into their savings to be able to afford increased mortgage repayments, while 39% said that they would consider a second job or a side hustle to be able to afford their mortgage.
Other ways homeowners considered making additional money to be able to afford their mortgage, included having a lodger move into a spare bedroom, asking friends and family for help, selling off unwanted or pre-loved possessions or downsizing to a cheaper property or area.
What UK homeowners said they would consider doing to meet their mortgage payments: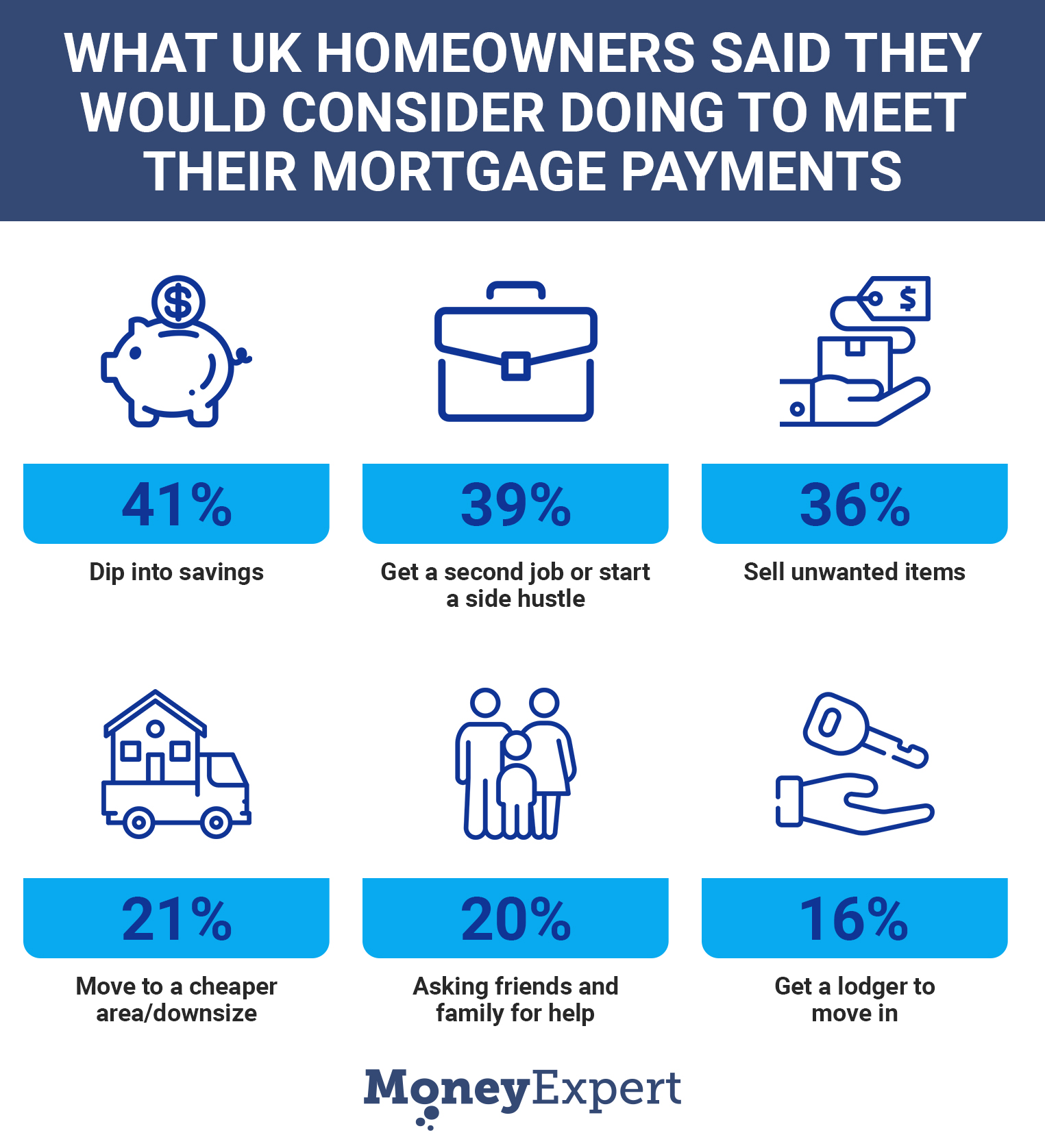 Household disposable income: Before and after remortgaging
The survey asked how much disposable income homeowners had to spend once all bills and expenses were settled, prior to and post remortgaging their homes. Worryingly, it looks like many mortgages will simply be unaffordable when it's time to remortgage, leaving households with much less to spend.
Our findings revealed that almost a third (29%) of respondents had between £300 and £500 per month of disposable income available to spend, before remortgaging their home. However, after they remortgage, 27% of households said that they would only have between £100 and £300 available to spend. This shows the real world drop in the spending power of homeowners due to the rise in interest rates.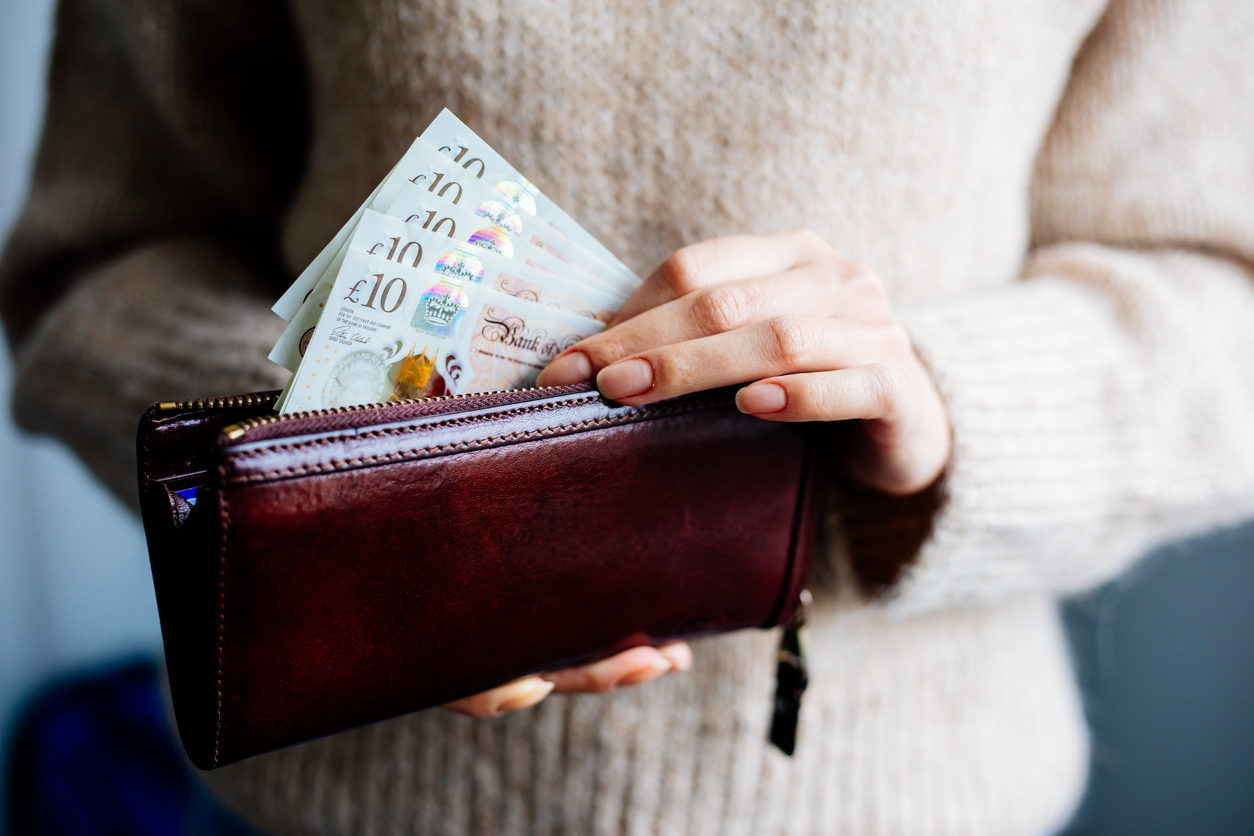 Commenting on the results, Liz Hunter, our Commercial Director said:, "Many UK homeowners are having a tough time financially, with issues relating to the cost of living alongside rising costs in energy bills that continue to put a squeeze on household spending."
"Rising mortgage rates will be a major concern for many people, particularly those who are coming up to the end of their agreement within the next six months, with good mortgage deals now few and far between. This, coupled with increasing food, fuel and energy prices, makes it more difficult for households to afford the essentials they need to survive."
Liz Hunter concludes, "The Bank of England has raised the base rate 14 times in a row and is currently set at 5.25%, with predictions it could rise further to 5.5% in September. Given this predicament, it's unlikely we'll start to see lower interest rates for a while yet, and very unlikely they will return to the ultra low levels experienced post the 2008 financial crash.
Providing further analysis of the results, Paul Ford, Group Commercial Director at Fluent Money said, "Rising mortgage interest rates are undeniably a source of significant concern for homeowners across the UK. The fact that 42% of households are planning to cut back on non-essential spending to meet their mortgage repayments highlights the real financial strain many are facing. Homeowners must now be more proactive than ever."
"At Fluent, we believe in starting conversations with our customers as early as possible, ideally months before their current mortgage deal ends. An early approach allows us to work together to find tailored solutions and ensure customers are well-prepared to face the future with confidence. We find that taking this proactive approach and staying ahead of the curve, helps our customers navigate this challenging financial landscape effectively."
What to do if your mortgage is coming to an end
There are a number of things homeowners can do right now to ensure they get the best price possible in today's turbulent financial market. Liz Hunter, offers her advice on what homeowners can do if their mortgage is coming to an end:
"Do something rather than nothing – If you do nothing, you'll automatically be moved onto your lender's standard variable rate, which is almost always considerably higher than some of the fixed-rate deals currently available. Avoid this by getting prepared ahead of time and looking around for the best deal.
Review your budget – Spending a few hours reviewing your monthly income and outgoings will give you a better idea of what you can afford, and where you might be able to cut back and save.
Plan ahead – Don't wait until your current deal comes to an end – most lenders allow you to secure a deal up to six months in advance. It's best to start sooner rather than later, as rushing to secure a deal as your mortgage is coming to an end could leave you worse off.
Talk to your current lender – It's always worth seeing what your current lender can offer you. This often makes the remortgaging process quicker and easier, as you won't need to provide as much paperwork. It may also mean you incur fewer fees too.
Compare deals – Don't agree to a deal with your current lender until you've shopped around. Use a comparison website, like ours, to compare the fixed rate lengths, monthly costs, total costs and fees of different mortgage deals via alternative lenders. This will help you get a deal tailored specifically for you for the best price.
Seek help from an independent mortgage broker – Once you've benchmarked the rates available, it's worth seeking professional advice. A mortgage broker will assess all of your options, advise you on which is most suitable and support you throughout the application process."