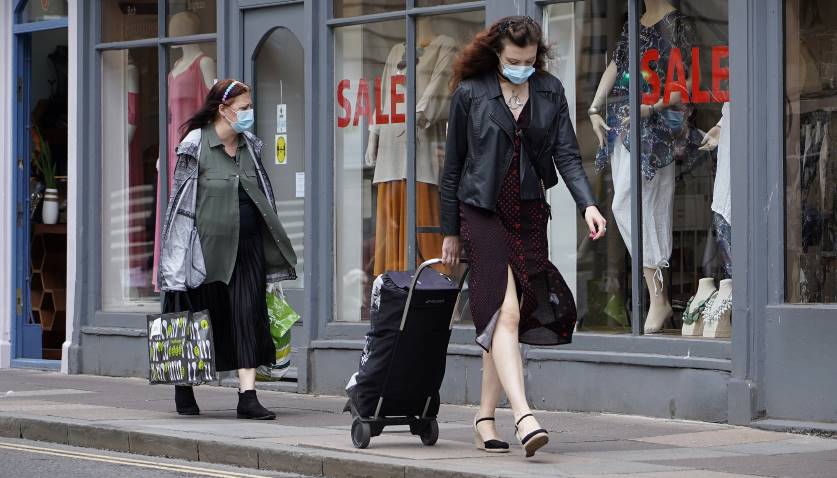 UK Economy Suffered Record Annual Slump Last Year
New official figures show that the UK economy contracted by 9.9% in 2020 as Covid-19 restrictions severely hindered output.
The Office for National Statistics (ONS) said that the shrinkage last year "was more than twice as much as the previous largest annual fall on record".
However, a double-dip recession looks unlikely due to increased growth at the end of the year.
The economy grew by 1.2% in December having contracted by 2.3% the previous month.
The ONS said that sectors such as car sales, hospitality, and hairdressers have all recovered some lost ground.
The UK is now expected to avoid its first double-dip recession since the 1970s as the economy expanded by 1% in the last quarter of 2020.
Jonathan Athow, ONS deputy national statistician said: "An increase in Covid-19 testing and tracing also boosted output. The economy continued to grow in the fourth quarter as a whole, despite the additional [lockdown] restrictions in November."
Head of economics at the British Chambers of Commerce, Suren Thiru, said: "Despite avoiding a double-dip recession, with output still well below pre-pandemic levels amid confirmation that 2020 was a historically bleak year for the UK economy, there is little to cheer in the latest data."
Speaking to the BBC, chancellor Rishi Sunak said: "Today's figures show that last year our economy experienced a significant shock, and also some signs of resilience over winter.
"You know what's clear is right now, many families and businesses are experiencing hardship. That's why we've put in place a comprehensive plan for jobs to support people through this crisis, and we will set out the next stage of our economic response at our Budget in early March."
However Anneliese Dodds, shadow chancellor, said: "These figures confirm that not only has the UK had the worst death toll in Europe, we're experiencing the worst economic crisis of any major economy.
"Businesses can't wait any longer. The chancellor needs to come forward now with a plan to secure the economy in the months ahead, with support going hand-in-hand with health restrictions."
In reply, Mr Sunak claimed that it was not useful to make economic comparisons between the UK and the rest of the world:
"We calculate GDP in a different way to pretty much everybody else. And if you either correct for that difference or look at it in a way that's more comfortable with nominal GDP, what you find, as the Bank of England and the ONS have pointed out, is that our performance is very much in line and comparable to other countries."