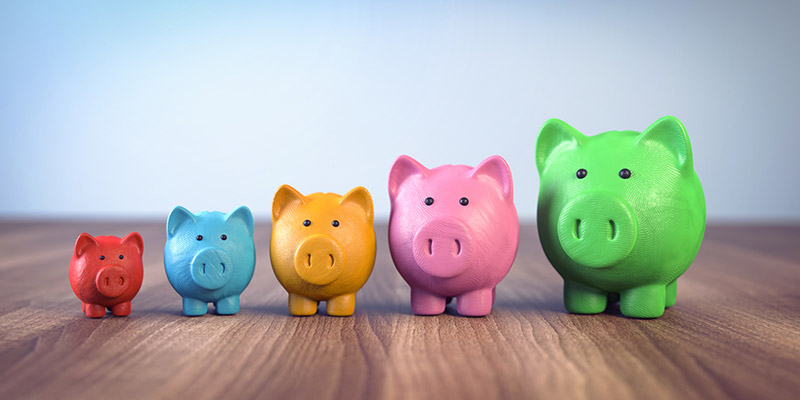 Two Top New ISA Products to Enter the Market
Goldman Sachs and Unity Mutual introduce two exciting new products into the savings market.
Both products from Goldman Sachs and Unity Mutual are part of an exciting trend toward encouraging customers to grow their savings and invest their money smartly.
This year, investment banking giant, Goldman Sachs, introduced their new personal banking branch, Marcus. At Marcus, customers have the ability to open an easy access savings account with a market-leading 1.5% interest rate. There have already been 100,000 accounts opened with a total value of £2.3 billion.
Following the success of the easy access account, Goldman Sachs has now confirmed that it will launch more savings products in the UK, "including a cash ISA". However, information on the new products is not currently available.
A spokesperson for Goldman Sachs said, "These huge numbers show just how frustrated savers were with the low interest rates on offer. People work hard for their money, so we're delighted at how quickly savers have given their savings the benefit of a competitive interest rate. We must be one of the fastest growing banks in the UK right now".
"We've put the interest back into savings by offering an easy access account that can be opened with just £1 and no minimum monthly deposit. It's shaken up with the savings market and we've seen others increase their offerings to savers since our launch. We are confident customers will continue to see the appeal of our consistently competitive interest rate that won't be here today, gone tomorrow".
Unity Mutual has also entered a new offering into the market, this time a cash LISA (lifetime ISA) which "offers a guaranteed interest rate". Unity Mutual will be investing "deposits in cash, stocks and shares, equities and residential properties" because banking regulations "do not allow friendly societies to run standard cash ISAs".
The financial Services Compensation Scheme (FSCS) currently protects customers' money up to £50,000 and those depositing in Unity Mutual will be protected by this. However, it is "significantly less" compared to the £85,000 limit for cash accounts.
Unity Mutual will reevaluate the interest rate every year in March and will increase or decrease the rate according to "the performance of the underlying investments".
To open an account with the friendly society, you will need to deposit an initial sum of £250, or a direct debit deposit of £25 each month. If you deposit at least £1,000 every year for the next five years, Unity Mutual "offers free life cover up to £5,000".
Steve Code, insurance director at Unity Mutual, commented, "LISAs are a valuable tool for the government to help tackle the problem of young people struggling to get onto the property ladder. They reward committed saving but also have a degree of flexibility too. We think the LISA opens up the opportunity for many young people to save for and buy their first home and we're glad to be able to do our bit to support that".
Out of the four cash LISAs on offer, Unity Mutual's interest rates of 1.10% (Newcastle Building Society) and 1% (the Nottingham and Skipton Building Societies) are the best available. However, you should remember that a LISA is not a "pure cash product". When you deposit money with Unity Mutual, you allow the friendly society to invest on your behalf, "but it says it will carry all the investment risk itself". Therefore, should the investment not be successful, the customers still receives the guaranteed rate. This is helpful for some savers because you don't have the pressure of deciding how to invest. Additionally, the interest rate is set in anticipation of the next tax year, so "you'll always know what your money will be earning".
For those savers looking to have a say in how their money is invested, other platforms provide this option. AJ Bell, Hargreaves Lansdown, Nutmeg and The Share Centre are all viable options for this type of LISA, however, your money will be exposed to risk.