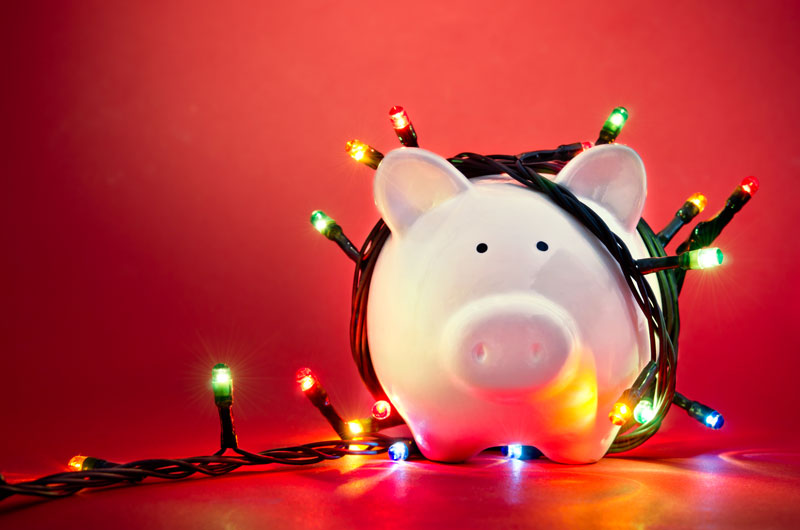 Christmas 2019: Top Tips to Save Money This Festive Period
It's easy to get caught up in a festive spending frenzy at this time of year. But if you're not careful, you'll find your bank balance a little bruised when the haze descends in January.
Unless you're one of the few who renounces materialism in its entirety and plans to spend the festive period neither giving nor receiving gifts, the chances of you parting with more cash than you would like to are high.
There are ways you can mitigate this spending however without turning to a life of total piety. In the spirit of Christmas, we've put together a few helpful tips that can help you make sure that you enter the new year in the black.
Set a budget
While Christmas is a time to let loose the purse strings a little, it's also very important to make sure that you only spend within your means. Especially for those hosting and with large extended families, it's very important to make sure you work out how much you can afford to spend in advance, and then stick to that budget. Once you have worked out how much you can spend, it is much easier to allocate money to each individual element.
This also prevents you from overspending massively at the beginning before realising at the end that you only have presents for two out of your three children.
Set present price limits
A great option for those with large families or on a budget is to set a present price limit per person that everyone has to stick to. This is a great way to even out the playing field between young and old, rich and poor. It also means that more thought goes into buying the presents because you generally have less to work with meaning you can't just throw money at the situation. Doing this also prevents the potentially awkward moment where a mismatch in festive spirit results in you getting a pair of oven gloves for your uncle and receiving a brand-new TV in return.
Don't be fooled by Christmas deals
The months leading up to Christmas which include Black Friday, Cyber Monday, are absolutely chock full of seemingly amazing deals. It can be quite easy to think that you're actually saving money by taking advantage of the good nature of all of these retailers. Many of these deals are not in fact good deals at all but are just marketed to look that way, and even if buying one pair of salad tongs means you get the next 5 half price, it doesn't mean you need 6. Write a list, stick to it and take advantage of good deals where possible while maybe letting yourself indulge in a couple of luxury items just to keep yourself sane.
Don't go overboard with the food
The amount of food that gets thrown away at Christmas is absolutely staggering. Humans have not quite worked out the correct amount to buy to feed ten people over 5 days and it shows. Buying a sensible amount of food will not only help to minimise the amount of waste but also will be kinder to your wallet. While it can be tempting to buy a chicken in a goose in a turkey, it's always worth stopping and thinking whether or not you and family are actually going to eat it all.
Stop unnecessary presents
Most people will find themselves in the arbitrary gift for gift relationship with estranged family members or friends. For example, your second uncle Rodney might buy you a £10 bottle of wine every year and you might return the favour, buying him a similarly priced bottle of wine. When you break it down these gifts do not really bring anything as there isn't much thought going into it and it ends up feeling a ritual that no one can remember the roots of. Just break the mould, and suggest that maybe if we want to we could buy ourselves a bottle of wine we actually want rather than the hastily chosen mystery brand from the local corner shop.
It's worth considering cutting down on the amount of smaller 'stocking filler' presents that people seem to enjoy buying. While a pack of novelty playing cards and some strangely flavoured jelly beans might seem like a nice gift, it's always worth considering holding back as there's a fairly high chance they will end up in the bin.
Recycle
Everyone has gifts that just sit there from last year – a book about the Titanic, an old bottle of cognac, or a slightly uncomfortable scarf. While it would be mean to throw them away, you can repurpose these gifts and give them to people who might actually want them. Blow away the dust, wrap them in some shiny paper and you're good to go. Just make sure that you don't give them to the person who gave them to you last year as this could result in an awkward moment.