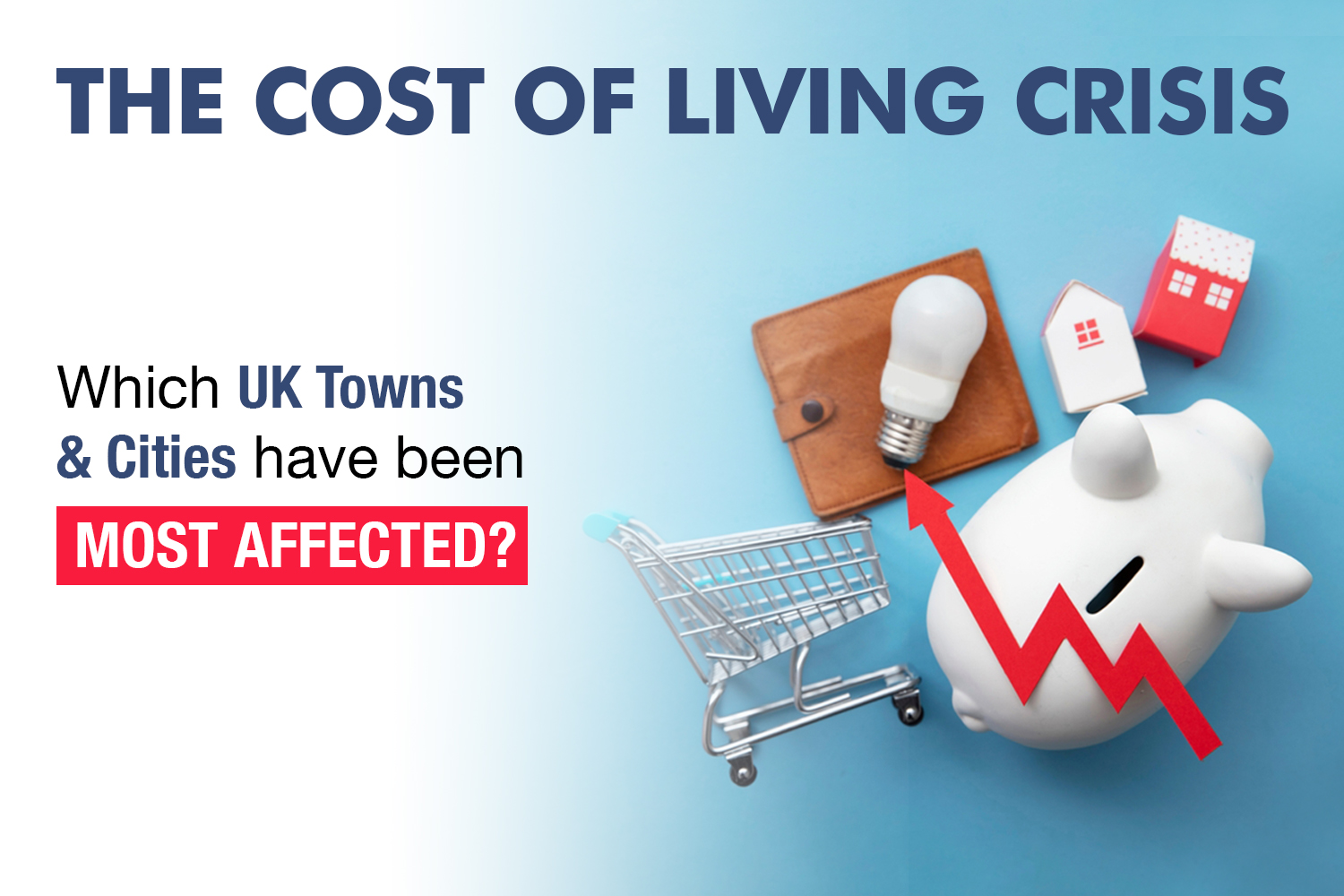 The Cost of Living Crisis: Which UK Towns and Cities have been most affected?
The cost of living crisis has had a profound effect on millions of UK households, fuelled by rising prices and below inflation pay increases which have led to a fall in living standards for many people.
Factors such as rampant inflation, supply chain problems, and the aftermath of a global pandemic have all contributed to the current crisis. Essential items such as food, energy, and clothing have become more expensive, putting severe pressure on UK household budgets. However, whilst it's clear that the entire country is having to cope with these financial pressures, are some parts of the UK struggling to cope more than others? To find this out, we conducted a study to determine the towns and cities across the country where residents are likely to be struggling the most.
In order to get the answer to the above conundrum, we explored three key research points for each major UK town and city. This included trend data from the following data sets:
Decreases/Increases in average salary

Changes in rental payments

Online searches relating to food banks
The data we gathered helped us to determine the UK towns and cities that have been struggling to cope the most with the ongoing cost of living crisis. Below you can see illustrated on a map the areas that, according to the data, have been hardest hit as each location appeared in more than one top 20 list from the data sets.
Has Lincoln been hit the hardest by the cost of living crisis?
Lincoln, the historic cathedral city known for its rich history and which often scores highly in 'happiest places to live' indexes, is perhaps not the first place you would think would be struggling the most with the cost of living. However, our research identified Lincoln as the only location to feature in the top 20 of all three of our data sets, which focused on rental values, average salaries and demand for food banks.
Lincoln experienced the most significant surge in average rental costs, which soared by 53.37% between January 2022 and January 2023 (based on two-bed properties). This suggests that like the rest of the UK, demand for housing is far outstripping supply, exacerbated by higher interest rates which is making owning a property more expensive for landlords.
The city also featured among the areas with the lowest average annual salary increase. just 3.44%. This is of course well below the headline rate of inflation which is still over 10%.
Our research also revealed a worrying 143% increase in the number of people searching for food bank related queries in Lincoln, according to search volume data collected from Google's keyword planner. This trend demonstrates a growing demand for food banks in the area, potentially indicating that many more people are now experiencing food insecurity or struggling to afford food.
Lincoln wasn't alone, so how did other towns and cities perform?
Whilst Lincoln came in at number one in the top 20 list of the hardest places to live during the cost of living crisis, other towns and cities throughout the UK also performed poorly as outlined in our research.
Sharp Rises in Rental Costs
Average rental costs for a two bedroom property also increased in other areas around the UK too. Whilst York didn't feature in every top 20 list of our study, the city did see average rents rise by a whopping 52.89% between January 2022 and January 2023. Other locations that saw rental costs increase over the same period include Edinburgh at 43.58% and Slough at 40.95%.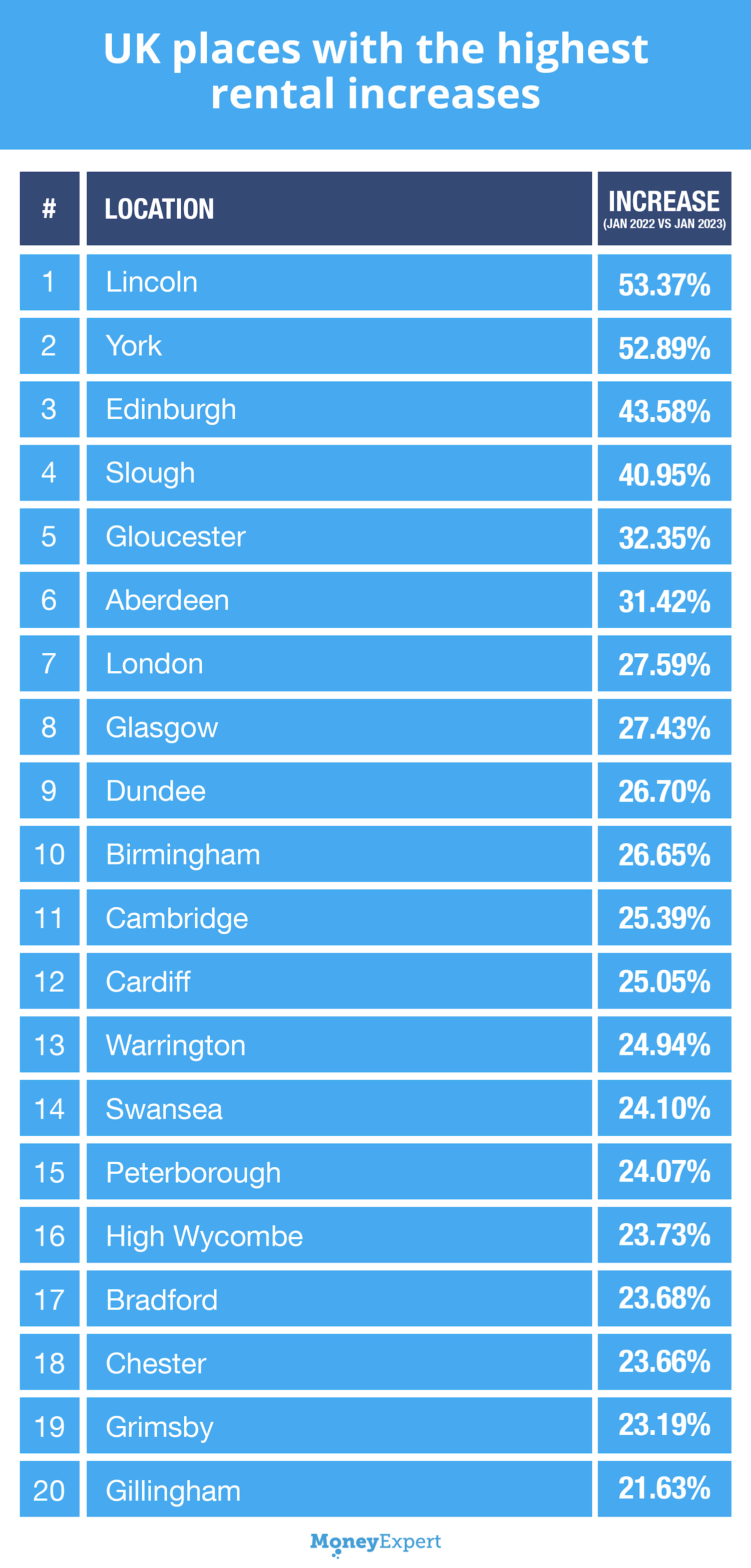 Money Expert Says: Five ways that could help you reduce your rental payments
The UK's private rental sector is experiencing high demand for properties in many areas of the country, resulting in higher rental costs and a more competitive market due to the lack of homes available. Whilst this may make it difficult for tenants to negotiate a reduction in rent payments, there are a number of ways that could persuade landlords to reduce any proposed increase.
Here's five ways that could help you negotiate a reduction in the proposed increase in your rental repayments with your landlord or property management company:
Research current market rates: Before negotiating, it always pays to do your research of the current market rents for similar properties in your local area. This will give you an idea of what you should be paying for your rental property.
Highlight your positive renting history: If you have been a reliable and responsible tenant, highlight this to your landlord or property management company. This shows that you're trustworthy, reliable and worth keeping on as a long term tenant.
Look at property improvements: If the property you currently rent has any flaws that are cosmetic, or poor insulation that might bump up your energy bills, consider bringing these up with your landlord or property management company. They could be used to make your case for a reduction in the proposed rental increase.
Negotiate additional perks: If the landlord is unwilling to reduce the proposed rental increase, try to negotiate additional perks such as free parking or utilities. These perks can help to offset the cost of the rental.
Be prepared to walk away: If the landlord is unwilling to negotiate or if you feel that the rental rise is unfair, be prepared to walk away. Make sure you have a new property lined up BEFORE you make the decision to walk away, as you may find it difficult to find a property to rent in a highly competitive rental market.
Average Salaries Decreasing
Whilst UK salaries overall have increased over the past 12 months (albeit at a below inflationary level) the city of Gloucester actually saw the largest downturn, decreasing by 6.63% compared to 12 months ago. In addition the West Sussex town of Crawley also fared poorly, with a 5.19% decrease in the average salary during the same period. Perhaps even more remarkably London, which is often associated with big business, high salaries and exorbitant bonuses actually saw average salaries decrease by 3.15% over the last 12 months.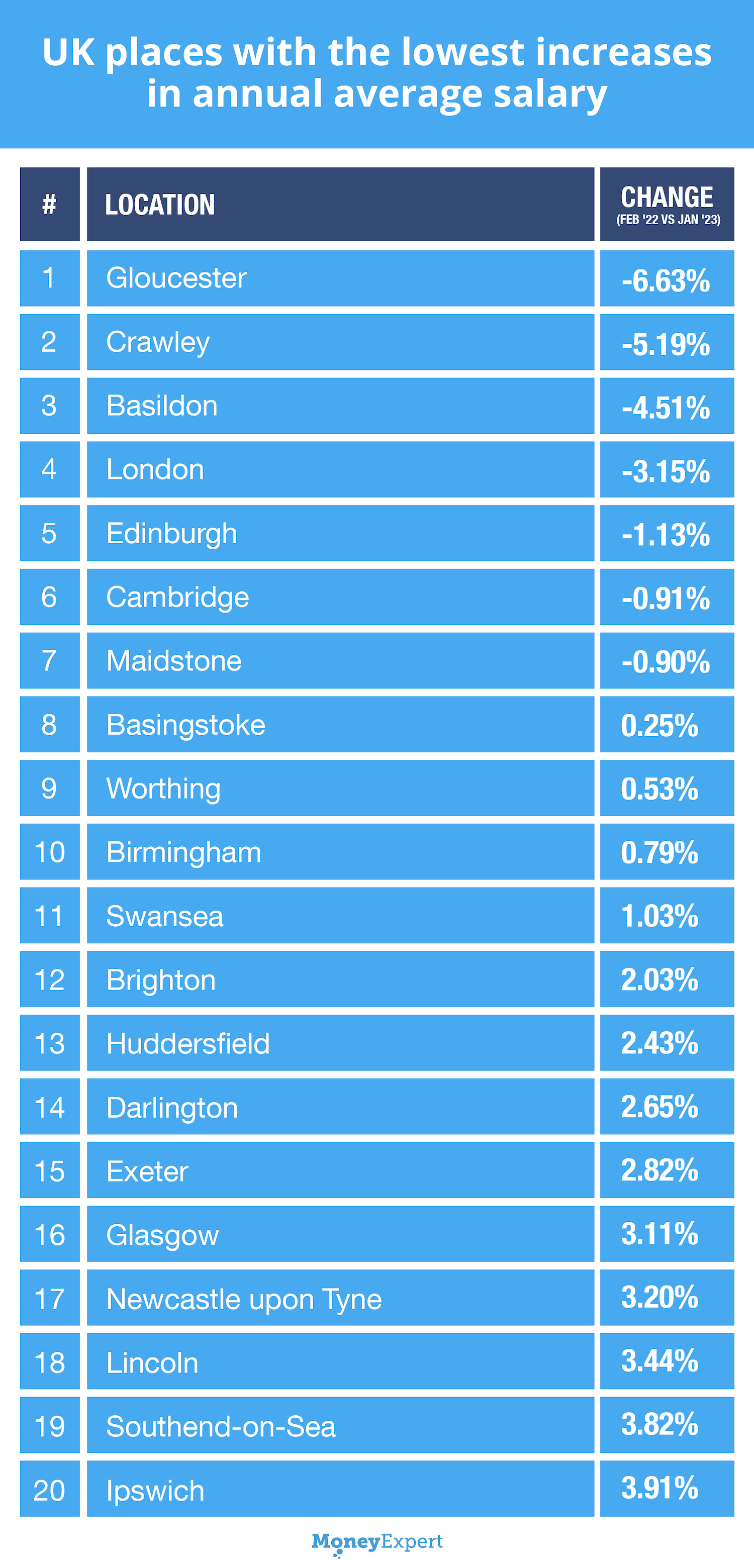 Money Expert Says: How to Negotiate a Pay Rise
It's your right to ask: You're well within your rights to ask for a pay rise from your employer, particularly if you've been with the company for a while or you feel like you're underpaid in relation to your current job role. Being transparent with your employer helps open up the conversation and helps you explain why you feel you deserve a salary review.
Show your value to your employer: Provide evidence on everything that you've accomplished during your time at the company, focusing on achievements and targets, but also things such as taking on more responsibility and training. Take your line manager or boss through your examples and explain how they've impacted the business in a positive way.
Timing is everything: Performance reviews, annual reviews or towards the end of the financial year are usually the best times for employees to ask and negotiate a pay rise. This is because many businesses will be assessing performance, results and making budgetary forecasts for the coming year.
Has your work added value?: When negotiating, it's important you demonstrate how you're an asset to the company, and why they should recognise and reward your efforts. Provide specific examples of your work or strategies that you've implemented, and how this has provided a return on investment. Key examples could be whether your work has encouraged repeat business, directly resulted in an increase in sales or if you've saved the company money.
Do your research: It's worth looking into the average salary that your particular job title attracts, which can be found on job sites such as LinkedIn and Glassdoor. Having this knowledge at hand will give you leverage to negotiate a pay rise, but also shows that you're tuned into the current state of the UK job market.
Demand for Food Banks Spikes
The impact from the cost of living crisis has meant that an increasing number of UK households have been forced to rely on local food banks in order to feed themselves and their families. This was reflected in our research, which found that Ipswich topped the top list of major UK cities and towns with a staggering year on year increase in searches for food bank related queries of 333%. This was followed by Cardiff, which saw a sharp rise of 256%, and High Wycombe and Barnsley, which both saw food bank related searches increase by 200% each.
The northern and southern regions of the UK tallied eight towns and cities each in the top 20 list for food bank searches, with Wales seeing only one and the Midlands having just three entries in the list.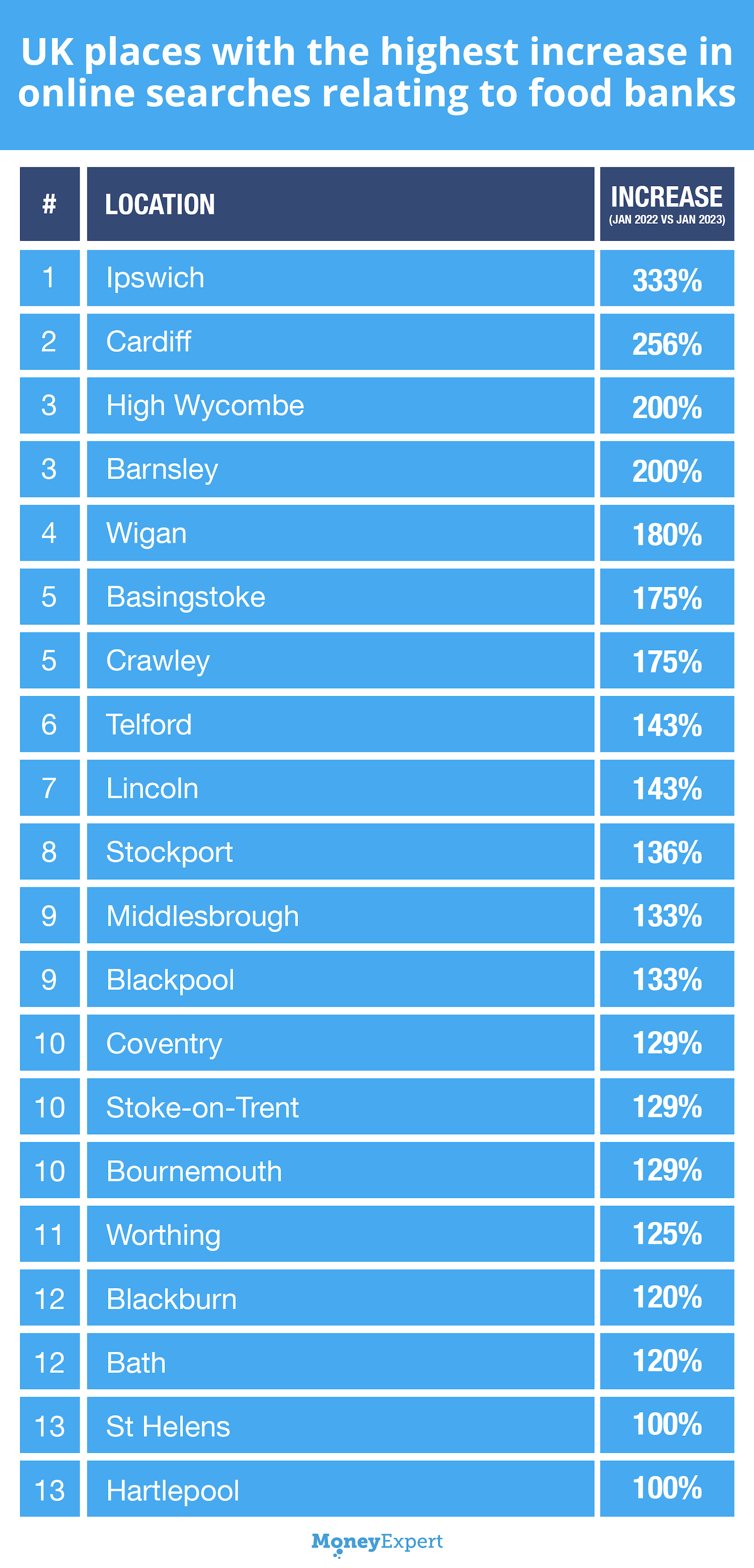 Money Expert Says: How can you obtain help and support from a food bank?
If you or anyone you know is struggling to pay for food, a food bank could be a short term solution. Here's how to sign up to a local food bank for help and support:
Referrals: UK residents can access food banks by obtaining a referral from a professional such as a doctor, social worker, or job centre advisor. Referrals may also be obtained from charities, community organisations, or faith groups.
Visiting a Food Bank: Once a referral has been obtained, residents can collect a food parcel from the food bank's distribution centre or through a delivery service, depending on the specific arrangements of the food bank.
What's in a Food Parcel?: Food parcels typically contain a selection of non-perishable items such as tinned food, pasta, rice, and cereal, as well as fresh items such as bread, fruit, and vegetables, where possible.
Additional Support: Some food banks may also offer additional support, such as advice on managing finances, access to debt counselling, or signposting to other relevant services.



Independent Food Banks: There's at least 1172 independent food banks operating throughout the UK and are run by local churches, charities or volunteers from the local area. You can find your nearest independent food bank online, on social media or in the local paper, and you can usually visit them to get a food parcel for free without a referral. Taking away the need for a referral has meant that these food banks are often busier than food banks funded by local authorities, so be mindful of this if you need to use one.
Expert Analysis
When analysing the research conducted for our cost of living study, a spokesperson from Money Expert said:
"The cost of living crisis continues to be a major concern for many UK households. Higher rents are forcing people to spend a larger proportion of their income towards housing, leaving them with less to spend on other necessities. Lower salaries in certain areas make it difficult to save money for emergencies, which is when we start seeing households having to rely on food banks."
"Without significant changes, this cycle will continue to perpetuate, leaving many families struggling to make ends meet. Whether we see positive changes ultimately depends on the actions taken by governments to help address the root causes of the cost of living crisis - an acute housing shortage, low pay and soaring inflation."
"Whilst there is some support already in place to help with household bills such as the Energy Bills Support Scheme, which is set to end on the 31st March. There are a number of useful ways of managing money that homeowners can look at to provide themselves with temporary financial relief, but also help to save more in the long run."
"Using a comparison site is essential for homeowners to find the best deal for expenses such as utility bills, insurance and mortgages, as it scours the best deals for your requirements. When it comes to renewals for products like insurance, never accept the offer until you've done your research on a comparison site, as you're likely to find a cheaper deal elsewhere. If you find that you're struggling to pay for your energy bills, it's worth speaking to your supplier to find out what help is available or whether the tariff you're on is the right one for your needs."
"However, while there may be short-term solutions, long-term systemic change is necessary to truly improve the situation for those affected, such as more energy efficient homes and fairer salaries in line with inflation."