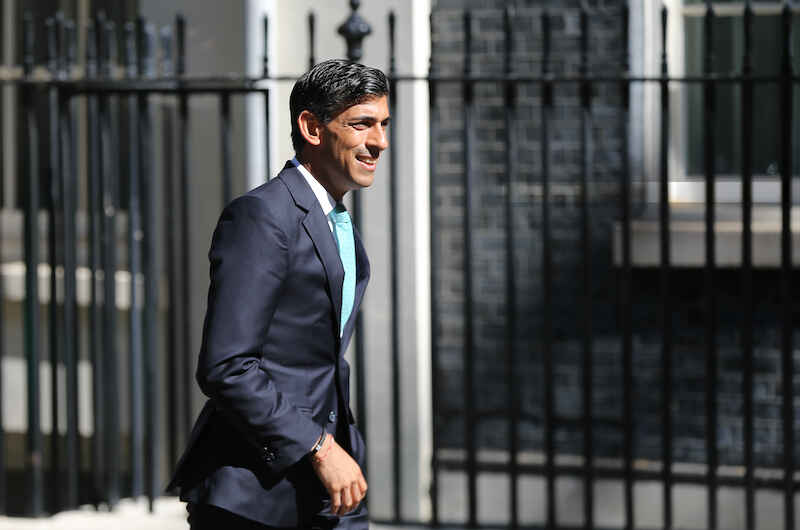 Interest Rate Hikes May Push Mortgage Payments up by £1,000 a Year, Chancellor Warns
Homeowners who aren't on fixed-rate mortgages could see their payments rise by over £1,000 per year as interest rates continue to climb, Chancellor Rishi Sunak warned colleagues.
He told colleagues in the Cabinet that interest rates will rise by 2.5% over the next 12 months as the Bank of England tries to check inflation. That could add more than £1,000 to the annual mortgage costs of households on their lender's standard variable rate.
He warned that even a 1% point increase in these standard variable rates could increase mortgage bills by a typical £700.
Households that took out in two- and five-year fixes when mortgage rates were at record lows last summer will be spared the pain, at least for a while.
Sunak cited the risk of higher interest rates and higher mortgage costs as a reason the government won't provide consumers with more help on energy bills.
In an interview with Mumsnet, Sunak said it would be "silly" to offer more support on energy bills before the autumn, which Labour, consumer advocates, and many Tory backbenchers have urged. He argued that borrowing more to fund public spending would cause further inflation and necessitate additional interest rate hikes.
"I am really conscious that I don't want mortgage rates to have to go up any more than they are already going up," said Sunak. "If governments at a time like this borrow lots more money, and we are already borrowing quite a lot, our own interest bill is ticking up, that risks interest rates having to go up even more."
"That will just add to pressure with mortgage payments to make, and I want to make sure that we don't do that, and I don't make the problem worse."
In the same interview, he also rejected calls to fund support on energy costs through a windfall tax on fossil fuel companies, which have repeated massive profits this year. He said that energy companies already pay 40% in corporation tax, compared to the 20% tax paid by other companies.
He also suggested a windfall tax would limit investment by those companies in developing further energy capacity.
"We are quite lucky that we have a lot of energy in the UK and what we have realised is that we need to invest more it that and that's why we haven't gone for an extra tax because I don't want to discourage investment in our own energy supplies," he said.
However, he suggested that if the companies don't reinvest the bumper profits, he may consider such a tax, adding that "nothing is ever off the table."
But reports this week that BP's profits doubled to £5 billion in the first three months of the year have reigned calls for a windfall tax, particularly after BP chief executive Bernard Looney told the Times that the firm wouldn't back away from any of its planned £18 billion in UK investments if such a tax were levied.
"The government's whole case against the windfall tax has now been exposed as a sham by none other than the boss of BP," shadow energy secretary Ed Miliband tweeted. "He himself says it wouldn't affect investment. He is right, their windfall profits are going mostly into share buybacks. The government have run out of excuses."
Sources