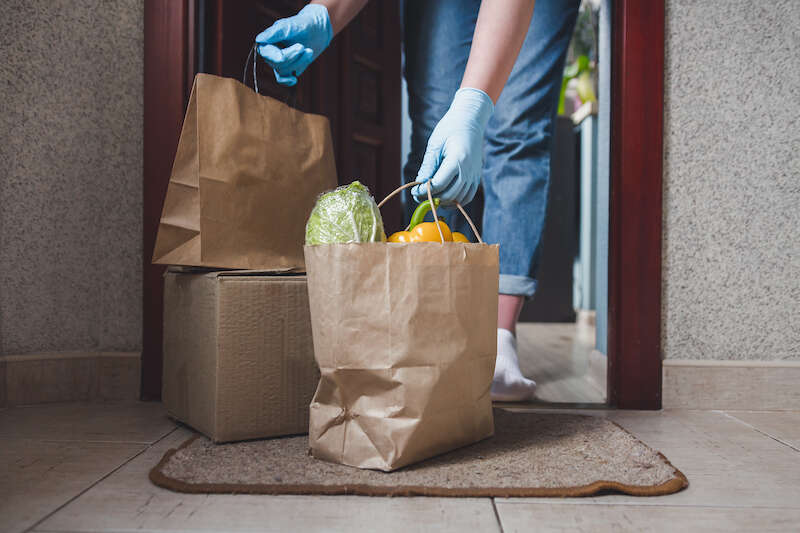 Consumer Spending Down 7.2% in March But E-Commerce Booming
As the national lockdown continued, consumer spending last month was down 7.2% compared to March 2019, according to Barclaycard. But it wasn't all doom and gloom for the economy, as e-commerce continued to soar and Brits looked forward to post-pandemic life with hotel, resort and entertainment spending up.

Barclaycard sees nearly half of the UK's debit and credit card transactions, giving it a "unique insight" into consumer spending.

Strong spending on essentials, up 7.7% compared to the same month in 2019, also cushioned the blow. But the pandemic has transformed the way we shop for those essentials. While many are still making trips to the supermarket—spending there was up 21.9%—others are relying on home deliveries. Online grocery spending soared 116.5% compared to two years ago.
Food and drink specialist stores including greengrocers and butchers are doing a roaring trade, with a 71.4% uplift, as Brits stayed local for their groceries. Fresh food boxes and meal-kit products are also surging in popularity.
Non-essential spending was down 14.5% compared to 2019, but this is a less steep drop than seen in January and February (declines of 20.8% and 18.3%, respectively), indicating a cautious recovery.
With brick-and-mortar shops still closed, clothing sales continue to suffer, down 28.6% compared to the same period in 2019. And the hospitality sector's woes are far from over, despite a 128.5% boom in takeaway orders for food and bereaves. Transactions were down 94.8% at bars and pubs and down 83.1% at restaurants.
But spending in the hospitality sector could rebound quickly as restrictions are eased. In a survey conducted between 26 and 29 March, one in four (26%) of Britons said they had already booked post-lockdown activities, with 41% of these consumers making reservations for restaurant meals outside.
Spending on entertainment, which includes family days out, theme parks and gym memberships, is also showing recovery, down 57.9% in March, compared to 83.2% in February.
The battered travel industry has reason for optimism, although trips abroad are still up in the air. 41% of consumers surveyed said they were planning a holiday within the UK this year and of those, two in five plan to spend more than they normally would travelling abroad. Bookings for these trips boosted spending on hotels, resorts and accommodations last month: they were down 54.3% compared to 2019, less steep than the 75.4% and 70.3% declines seen in January and February, respectively.
Meanwhile, robust digital sales took retail spending up 17.9%, signalling a shift from high streets to online vendors which may outlast the pandemic. Online transactions were up 84.7% compared to 2019 and accounted for more than half (51.6%) of all retail spending.
The e-commerce boom is benefiting general retailers as well as specialist vendors. Online marketplaces and catalogue shops saw a 110% increase in sales, while florists and jewellery shops saw a boost from Mother's Day, helping to lift spending on online specialist retailers up 95.7%.
However, confidence in the UK's economy remains low, at just 28%, with six in 10 survey respondents expecting another lockdown will dent the economy before the end of the year.
But while we're pessimistic about the wider economy, we're upbeat about our own finances. 72% of survey respondents are confident about their household finances, up from 68% in February. 61% are confident in their ability to spend on non-essential items—the highest proportion since the pandemic began—and 47% are optimistic about their job prospects.
Raheel Ahmed, head of consumer products at Barclaycard, said: "With springtime finally here and restrictions starting to ease, it's encouraging to see a renewed sense of optimism across much of the UK. There are also signs that some of those sectors most heavily impacted by the pandemic, such as hotels, resorts, accommodation and entertainment, are beginning to turn a corner, as many look forward to long-awaited trips and activities with family and friends after lockdown.
"While it remains a very challenging environment for high-street and hospitality outlets, the fact that many consumers are making plans for the future is a positive sign, and we hope to see this pent-up demand lead to growth in more categories as life after lockdown starts to resume."