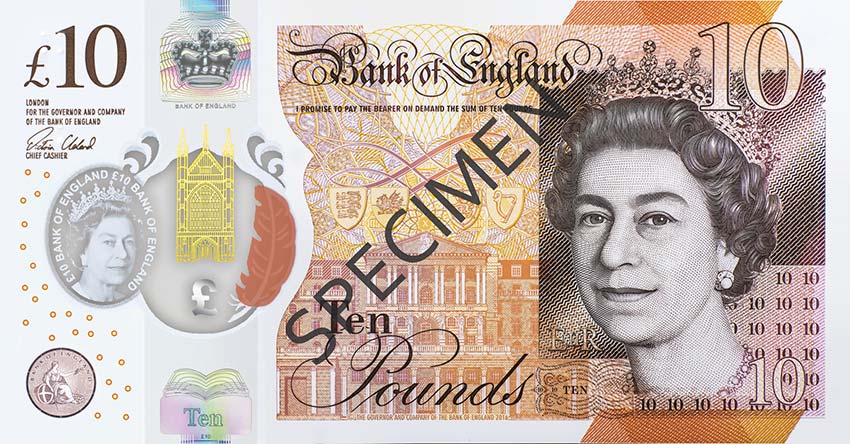 1st March Deadline to Spend Old £10 Notes Looms
The £10 note will tomorrow become the latest denomination of currency to be replaced a newer model which is deemed to be cleaner, safer and more durable than its predecessor.

The old paper notes which feature naturalist Charles Darwin will be replaced by polymer ones depicting author Jane Austen. Production of the new £10 note began August last year and the notes were released into circulation that September.
Currently there are around 200 million old £10 notes in circulation in the UK and there have been some instances of retailers returning old tenners in change to customers only a few days before the deadline. The Bank of England (BoE) has asked shops to avoid doing this to prevent a mad rush in the last day as £2bn worth of tender becomes effectively worthless after tomorrow (1st March).
There is a little leeway however and BoE has said that they will still accept notes after the deadline, but they will have to be posted or delivered by person to the Bank's headquarters. The BoE has warned that any money posted to the Bank is sent at the lenders risk and if you are sending a large amount of £10 notes you may be asked to provide identification.
The bank has also said that old tenners can be swapped after the deadline at a local post office or high street bank where you have an open account, although they stress that such establishments hold no obligation once the cut off has been reached. The new £10 is the third denomination of currency to be re-developed in the past year. First the new 12-sided coin was introduced on the 28th of March, this was followed by the new polymer £5 note which entered circulation on the 13th of September. If you find an old £5 note and don't fancy keeping it as a souvenir, then the BoE will still exchange them indefinitely if you post it or bring it to Threadneedle street in person. If you happen to find one of the old £1 coins lying around, the royal mint has said that you can still deposit them into your personal or business account at a high street bank.
The new £10 design has been warmly welcomed by those who are visually impaired due to its physical features. Raised bumps and lines on the left and right-hand side of the new currency will help people to differentiate it from other notes. There are plans to develop a new £20 note  depicting JMW Turner although they aren't expected to enter circulation until 2020. There are currently no plans to re-develop the current £50 note.