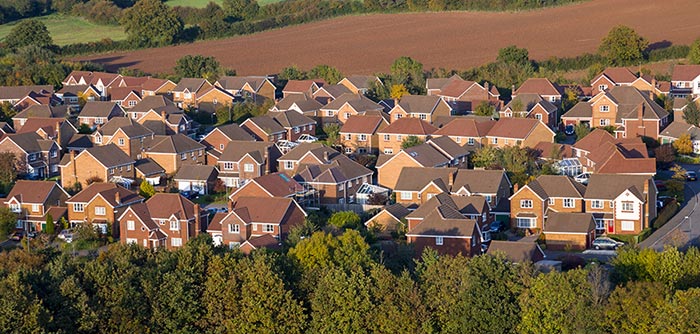 'Real Rent' Costs Have Fallen Since 2008
'Real rent' prices (actual rental costs adjusted for inflation) in the UK have fallen by 2.2% since October 2008 according to Hamptons International, the high end brand of Countrywide - the UK's largest property group.
Actual rent prices have been outpaced by CPI inflation over the last 10 years. Rental costs have seen a rise of 22% since October 2008, but inflation has risen 24% in the same timeframe.
The Head of Research at Hamptons International, Aneisha Beveridge, explains that: "real rents in Great Britain have been falling for the last 21 consecutive months. This comes as a result of sluggish rental growth and a post-EU referendum backdrop of rising inflation.
"However, this could be set to change as inflation begins to fade and rental growth starts to pick up pace. Currently the East and London are the only regions where real rents have risen over the last decade."
Real rents have risen 7.5% in the East over the last 10 years, whilst London has experienced a small increase of 0.5% since October 2008.
However, overall negative rental growth is seen across Great Britain owing to the fact that inflation has outpaced rental growth in every other region, with the Midlands seeing the biggest fall, down 7.8% in the last decade. Real rents in the North have fallen almost as much in the same period, down 6.9% overall.
Meanwhile, data published by the Royal Institution of Chartered Surveyors (Rics) shows that despite the residential sales market experiencing a slowdown, rents have now begun to rise, with a 'modest improvement in tenant demand during the three months to October'. This has been attributed to landlords avoiding new buy-to-let taxation by selling up altogether. Despite supply falling as demand increases, Rics anticipates future increases in rental costs to be relatively small.
Residential real-estate software company, Reapit, released separate data showing an increase of 13.3% in rental demand in the past 12 months, with rental stock down 6.9%.
CEO, Gary Barker, explained that: "over one in 10 landlords are actively looking to sell, compounding the issue. Although our research shows that rents have stayed broadly flat over the past year, inevitably we are facing a continuing supply-side squeeze, which will lead to higher rents in the near future. There are simply not enough properties to meet demand, and tenants face rising costs in a turbulent economy."
Rics' report shows that the UK property market as a whole is at its weakest for six years. Their monthly survey of members gave the weakest reading since September 2012, with reports suggesting that a 'limbo' caused by Brexit is to blame.
Prices have been flat or falling nationwide, and are expected to continue falling for the next three months as buyers refuse to confirm deals until there is some form of certainty over Brexit. Robertson Smith's Ronan McNamara, a surveyor from West London, said that "Brexit is the big issue. It has massively affected buyer confidence".