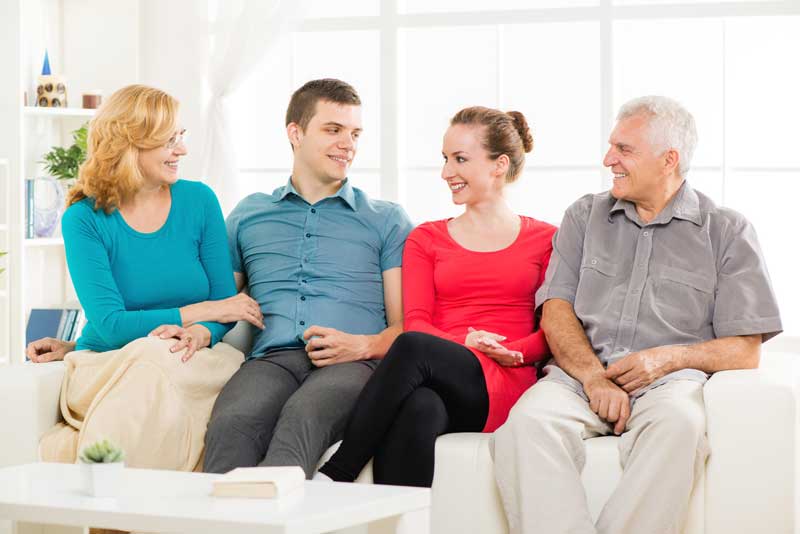 Over a Quarter of First Time Buyers Relying on Family for Deposit
A government housing survey has found that more than a quarter of the UK's first time buyers are relying on their parents or friends to pay for their deposits.
The rate at which first time buyers are relying of 'the bank of mum and dad' for their deposits has grown by 6% over the past two decades, from 21% to 27%, as house prices continue to grow faster than wages and younger people are forced to look for alternative financing methods.
Mortgage broker Andrew Montlake said: "You've seen house price rises during that time and the number of people who can afford to purchase a property on their own has fallen ... unless you have parental help it's very difficult to be a single buyer, particularly in London."
The number of first time buyers seeking alternative routes to funding their purchase, whether by getting help from family or friends, using inheritance or buying as a couple, has increased steadily since 1995.
The survey shows that the likelihood of a first time buyer buying alone, rather than with a partner or friend, is half what it was 20 years ago, at 14% compared to 29%. The number of first time buyers funding a deposit with inheritance is up more than 300%, from 3% to 10% over the same period.
The average age of first time buyers has also gone up, from 30 to 33, reflecting a similar report from the Resolution Foundation that showed that while 60% of 'baby boomers' owned the home they lived in by the age of 30, only 40% of millennials do, or are expected to.
A major force in this progression in the market demographics is that house prices have rise from an average of just under £52,000 in 1994/95 to just under £189,000 in 2014/15, the period to which this latest data applies. Now, the average UK property costs over £210,000.
Wages have not gone up as sharply, creating a widening affordability gap. According to data from Nationwide, the average first time buyer will have to spend 5.3 times the average annual salary for their property, whereas in 1995, this figure was at 2.3.
The raw number of first time buyers has also dropped fairly significantly in the last 10-20 years. In 2014/25, there were 564,000 first time buyers completing transactions, almost a third lower than the 815,000 in 2004/5. In 1994/5, there were 857,000 first time buyers purchasing properties, showing how much the rate at which this number is falling is accelerating.
Campbell Robb, head of homelessness charity Shelter, said these figures should be taking as an indication that housebuilding rates, which have been sluggish lately, need to increase in order to redress the supply/demand imbalance.
He said: "These figures are a glaring reminder that this country's drastic shortage of genuinely affordable homes means for millions finding a place to call their own is fast becoming out of reach.
"Instead more and more people on ordinary incomes have no choice but to face a lifetime of expensive, unstable private renting, unless they're lucky enough to have help from friends and family.
"The new government has a real chance to ease the pressure on young people and families in these uncertain times by making housing a top priority, and bringing forward measures to quickly start building homes that people on ordinary incomes can actually afford to rent or buy."
The government's Help to Buy scheme was designed in order to make life easier for first time buyers, helping them to get mortgages with lower deposits than usual - something that became more and more difficult after the financial crash of 2008.
Gavin Barwell, the newly appointed housing minister, said that the government was still focused on addressing the housing crisis and on trying to get more and more people owning their own homes.
He said: "We are determined to ensure that anyone who works hard and aspires to own their own home has the opportunity to do so.
"The groundbreaking Housing and Planning Act will allow us to go even further delivering our ambition to build an additional 1m homes."