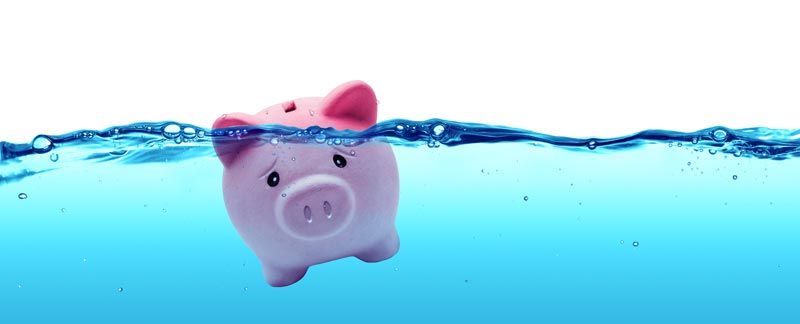 Personal Insolvencies at 7-Year High
After a year of rising inflation and low wage growth, personal insolvencies in the UK are at highest since 2011.
Experts in the industry have cited concerns over Brexit as well as stagnant wage growth and stricter credit rules as being to blame for the sharp increase in insolvencies in the final quarter of 2018.
Up by 34.7% since the third quarter, the total number of individual insolvencies rose to 34,108. This brought the total for the year to 115,299, according to the Insolvency Service - a 16.2% rise from 2017.
Recent research has revealed that 20% of British adults struggle "to immediately pay an unexpected bill for an amount as little as £20" without help from an outside source.
Stuart Frith, the president of insolvency and restructuring trade body R3, said: "Although recent government figures showed that the weekly amount spent by households has hit its highest level since 2005, much of that expenditure went on housing and transport, with less left over for consumer outlay. This is having a big impact on consumer-facing businesses, such as retailers and the restaurant sector."
As Frith suggests, there was also a rise in company insolvencies to 4,725, largely due to the folding of hundreds of construction and retail businesses. Overall, there were 17,439 company insolvencies across 2018 – the highest number since 2014. Among the companies to become insolvent were major department store, House of Fraser, and Carillion, a construction and government outsourcing contractor.
Mike Cherry, the chairman of the Federation of Small Businesses, was concerned about the strain placed on smaller companies and firms, with additional stress caused by Brexit uncertainty.
He said: "Our latest figures have found that small businesses are having to spend 15% more on the likes of taxes, levies and employment obligations than they were six years ago.
"Meanwhile, confidence among small firms is at its lowest level since the wake of the financial crash."
Frith explained that, due to unsatisfactory wage increases and the pressures of rising inflation, consumers have far less disposable income. This is compounded by the fact that banks and lenders "tightened their credit standards in response to the Bank of England's concerns over climbing consumer debts".
There were also considerably more individual voluntary arrangements (IVAs) formed in the last quarter of 2018 which drove up the number of personal insolvencies. An IVA is an agreement with creditors to pay off debt as an alternative to bankruptcy.
The Money Advice Trust expressed deep concern about IVAs, saying in part, "many people in debt are being led down a route that may not be suitable for their circumstances. The prevalence of online adverts that promote 'solutions' to debt involving insolvency procedures may well be a contributing factor to this."
Mark Sands, partner at advisory firm Quantuma, also shared concern that the IVA market is dominated by a handful of firms that use connections with debt advisors to directly advertise to "hot leads", people in growing debt, and could be doing damage to the economy.