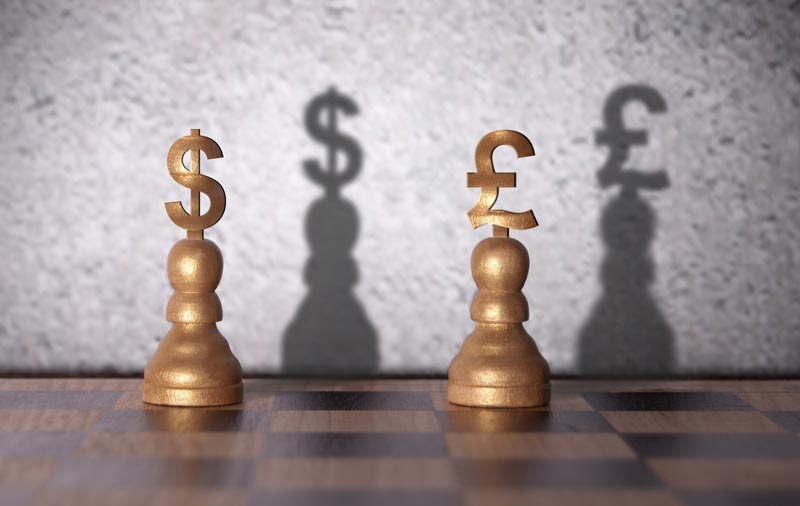 Pound Plummets Against Dollar & Euro Amid Brexit Concerns
The pound has slipped to a one-year low against the US dollar, amid worries the UK will crash out of the EU without a trade deal.
The pound fell below $1.29 on Thursday, down 1.7% since the start of the month, and weakened against the Euro. The 1.11 exchange rate against the Euro was the lowest in nine months and a 0.8% decline since the beginning of August. Sterling also lost ground against the Swiss franc and the yen.
The losses came despite the quarter-point hike in UK interest rates, which usually boosts the value of sterling, and reflected mounting concerns about the likelihood of a turbulent and financially costly Brexit. Bank of England governor Mark Carney has warned that the possibility of Britain leaving the EU without a trade deal are "uncomfortably high" and international trade secretary Liam Fox pegged the odds of the UK arriving at the EU exit date in March without a deal at "60-40."
Financial markets have responded to fears that a no-deal exit will disrupt supply chains, cause chaos at borders, and isolate UK businesses. The government last month admitted to stockpiling food and vital medicine to prepare for an exit in March without a trade deal, amid warnings from the National Farmers' Union, the British Retail Consortium and drug manufacturers about possible supply shortages.
The recent dip in sterling will drive up the cost of imported goods and fuel inflation, putting a new squeeze on living standards and profits, as public and business confidence in the government's approach to Brexit has tumbled. Voters' approval of the government's handling of negotiations with the EU has fallen to just 22%, according to pollsters ORB International. Last month Airbus chief executive chief executive Tom Enders raised sharp concerns about the progress of Brexit negotiations and accused the government of having "no clue" how to exit the EU without harm to the economy. The IMF has warned that a worst-case, no-deal Brexit could wipe 4% off the UK's GDP.
Foreign exchange analysts have warned that such an exit could cut a further 10% off the value of the pound.
The pound dipped sharply in the immediate aftermath of the EU referendum in June 2016 and, despite temporary gains in the spring of this year, has yet to make a recovery to pre-Brexit vote levels.
Summer holidaymakers are already feeling the pinch, as a weakened pound reduces purchasing power abroad.
The collapse in the pound has been magnified by recent gains made by the US dollar, on the back of strong economic reports and healthy company profits in the first two quarters of the year.