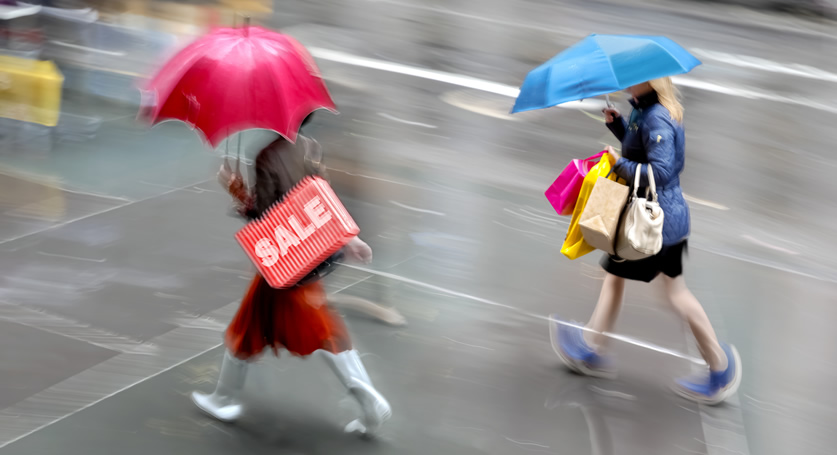 Dismal Weather Hits UK Retail Sales
Poor weather caused UK retail sales to fall for the second month in a row in May, according to the Office for National Statistics (ONS).
The latest figures from the ONS revealed that sales volumes dropped by 0.5% in May compared to the previous month, following on from a 0.1% monthly fall in April. Fashion sales were particularly badly hit, down 4.5% compared to April – the biggest monthly drop in clothing and footwear sales since July 2015. Falling fashion sales in particular have been blamed on the unseasonably cold weather the UK has been experiencing recently, with customers holding off buying their summer outfits while the weather is gloomy.
However, retail sales grew in the three months to May by 1.6%, although this is a slower rate than the 1.7% increase seen in the three months to April. Compared to May 2018, sales last month were up by 2.3%, however this too is down from the 5.1% annual sales growth recorded in April and is the smallest year-on-year rise since October 2018.
"Retail sales continued to grow in the latest three months despite two consecutive monthly falls, with clothing sales declining considerably in May, due to unseasonably cold weather," said Rhian Murphy, head of retail sales at the ONS. "We see quite a mixed picture across the rest of the sector as the decline in department stores sales continued, with no growth since September of last year."
On top of the weather, some analysts are blaming the slowdown in consumer spending on the ongoing political uncertainty surrounding Brexit. As UK employment is at record levels and wages are rising at a faster rate than inflation, spending on the high street would normally be high. But the latest sets of figures have shown this not be the case, suggesting the political deadlock is prompting people to save rather than spend.
"Although earnings continue to outstrip inflation, a second stutter in as many months will serve as a stark reminder that the retail sector's recent growth should not be taken for granted," said Philipp Gutzwiller, head of retail at Lloyds Bank Commercial Banking. "Despite the high street's challenges, the long-term shift in consumer habits has been encouraging further creativity among retailers online and in store as they look to stay ahead of the curve."
Lisa Hooker, consumer markets leader at PwC, said: "After Easter's heatwaves, a couple of drizzly bank holidays and a nation pre-occupied with politics, things were never going to bode well for May's retail sales. We don't believe that this is a sign of weaker consumer confidence… But it does show how vulnerable the sector is to both short-term factors – for example, national events, weather – as well as the need to structurally reinvent the high street to give consumers more reasons to visit, particularly given increasing net store closures."