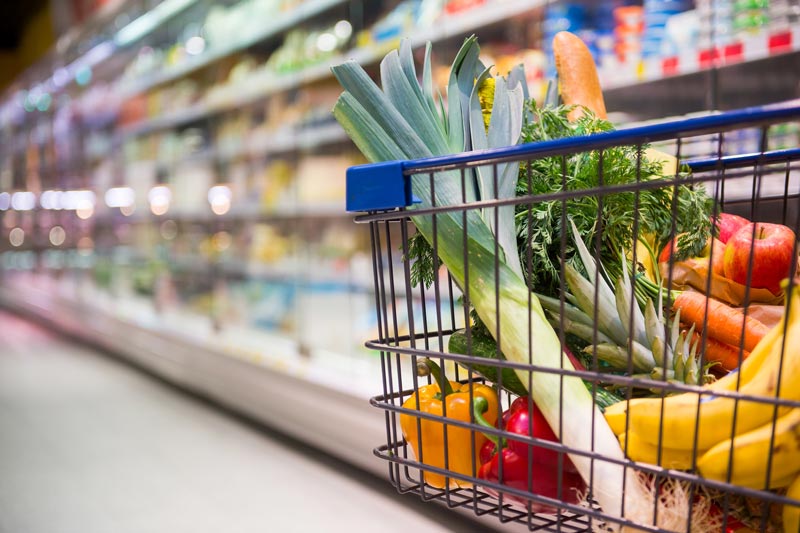 Inflation Pulled Down by Falling Food Prices
After reaching a six-month high in August, UK inflation fell further than expected in September.
The fall to 2.4% in September (from 2.7% in August) has largely been attributed to lower prices for food and non-alcoholic drinks, according to the Office for National Statistics (ONS). Comparatively, food and non-alcoholic drink prices rose between August and September last year.
Prices for transport, clothing, and recreation and culture were also downward contributors to September's lower rate.
The fall came as a surprise to economists who expected a fall to 2.6%.
It is thought that this will mean the Bank of England is under less pressure to increase interest rates in the near future.
UK economist at Capital Economics, Andrew Wishart, said:
"With inflation in line with the Bank of England's forecast, and measures of domestically generated cost pressures, such as core inflation and services inflation falling back, this reduces any pressure on the MPC to act again before it can assess the likely impact of the Brexit negotiations."
However, Samuel Tombs of Pantheon Macroeconomics, said: "Unless services inflation strengthens markedly over the next six months, CPI inflation will undershoot the [Bank of England's] 2% target."
Amidst September's fall in inflation, a decade-high wages increase of 3.1% was also occurring which will reduce pressure on consumer spending power.
The inflation rate decrease in September will have important implications, as it will be used to set state pensions which will increase by £4.25 per week.
Business rates will also be determined by September's reduced inflation rate – the British Retail Consortium have forecasted a £180m increase in retailers' costs.
The head of inflation at ONS, Mike Hardie, said:
"Food was the main downward pull on inflation as last year's September price rises failed to reappear, while ferry prices dropped after their surprisingly high summer peak.
"However, it wasn't all one-way traffic with energy suppliers pushing up their prices."
Food prices, meat and chocolate in particular, represent the largest anchors bringing September's inflation rate down, the ONS said.
The price of cultural services, such as admission fees to tourist attractions, fell by 2.5% while the cost of toys, games and hobbies increased by 1.6% compared to a 4.4% increase in September 2017.
Despite this, transport prices have increased by 5.5% since September last year, in part due to increases in fuel cost, say the ONS.
Electricity prices dramatically increased by 9.3%, the largest increase seen in September since 2011.
Interest rates
In August of this year, the Bank of England increased interest rates for only the second time in the past decade as a response to a recovery in economic growth.
Chief economist at KPMG UK, Yael Selfin, said that the slowdown in inflation will make another imminent rate rise unlikely, but said that "the relatively strong wage data released yesterday is likely to keep the Bank of England vigilant to any further signs of increasing inflationary pressures".
Senior economist at PwC, Mike Jakeman, said: "On balance we expect the central bank to maintain its current monetary policy stance until there is greater clarity over the circumstances of the UK's withdrawal from the EU."
State pension rise
The full state pension is expected to increase in value by roughly £4.25 to £168.60 a week, as will be soon confirmed by the Budget this month, equivalent to £8,767 a year.
Pensioners on the older basic state pension are likely to see a rise of £3.25 to £129.20 a week, which may result in a Pension Credit top-up.
Debate has surrounded the future and sustainability of the pension triple-lock, especially given the public sector pay cap and recent low average wage growth, though the current government has indicated that it won't be being changed any time soon.
There has been a freeze on the majority of working age benefits, like jobseeker's allowance and income support. However, without the freeze, over 10 million households will have been better off by an average of £150 per annum in 2019-20, according to the Institute for Fiscal Studies (IFS).
Teachers, police staff and NHS workers have set for uprates in pensions contributions, partly because of the latest inflation rate figures.