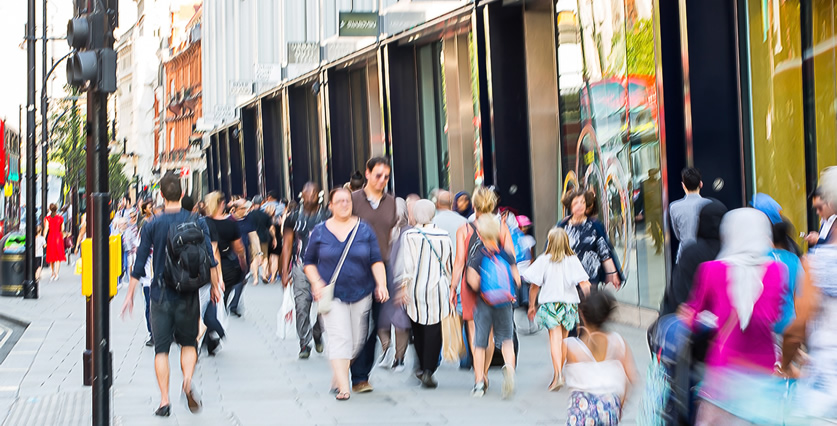 UK Retail Sales Exceeding Expectations
UK retail sales exceeded expectations in April thanks to warm weather and record online sales growth, according to the Office for National Statistics.
While retail sales growth was flat in April compared to March, it was higher than the 0.3% fall expected by economists. Retail sales in the three months to April grew by 1.8% compared to the previous quarter, driven by a record growth of 9.4% in online sales. The only sectors to see falls in sales over the period were department stores and household goods stores, which saw sales fall by 0.5% and 2.9% respectively.
"Retail growth was strong in the three months to April with a record quarter for the online sector, driven mainly by clothing purchases, with warmer weather boosting sales," said Rhian Murphy, head of retail sales at the ONS. "Elsewhere, department stores continued to see their sales fall."
Compared to last year, UK consumers bought 5.2% more goods in April 2019 than they did in April 2018, following on from a 6.7% annual rise in March. Online sales also grew, with annual growth of 18.7% in April, compared to 17.7% annual growth in the same month last year. The ONS and other economists said that although sales were partly boosted by warmer than average weather over the Easter period, the latest retail figures prove that the British public are undeterred by the ongoing Brexit uncertainty.
"April's retail sales figures are a timely reminder that political uncertainty is having no discernible impact on households' overall spending," said Samuel Tombs, chief UK economist at Pantheon Macroeconomics. "The stability of volumes in April is a good result, following recent strong gains; volumes rose on a three-month-on-three-month basis.
"Admittedly, warmer-than-usual weather – average temperatures were 1.1 degree Celsius above their 1970-to-2018 April average – probably temporarily stimulated clothing sales, which rose by 2.3% month-to-month and boosted the headline growth rate by 0.3pp. Nonetheless, the underlying trend should remain healthy. The job market is tight enough to sustain year-over-year growth in real wages at about 1% throughout the second half of this year. Households also have just benefited from the biggest increase in the income tax personal allowance since 2013, while mortgage refinancing still is freeing up funds for discretionary expenditure.
"The Brexit saga has only had a modest impact on households' confidence in the outlook for their personal finances, which remains in line with its long-run average. Households, therefore, looks set to sustain GDP growth at a slightly above-trend rate this year, convincing the MPC to raise Bank Rate again towards the tail-end of this year."
Ruth Gregory, senior UK economist at Capital Economics, said: "April's retail sales figures were better than most had feared, but nonetheless suggest that GDP growth will be weaker in the first quarter than the second quarter. Flat retail sales were better than it sounds following the surge in high street spending over the previous three months. Meanwhile, spending off the high street may also have been fairly soft. Indeed, car registrations have continued to plunge in April."