Last updated: 01/08/2023 | Estimated Reading Time: 6 minutes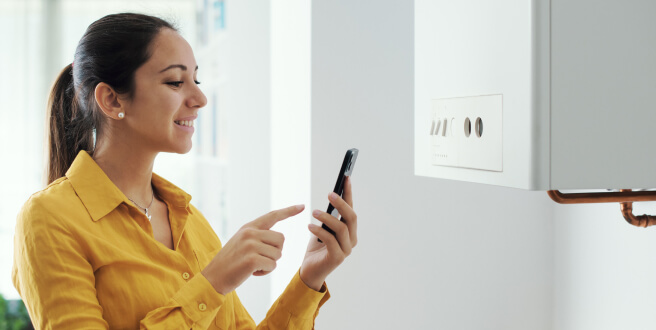 Fixed price boiler installation
Save up to £585 per year by replacing your boiler! For just £22 a month with no deposit and a 10 year warranty.
Learn more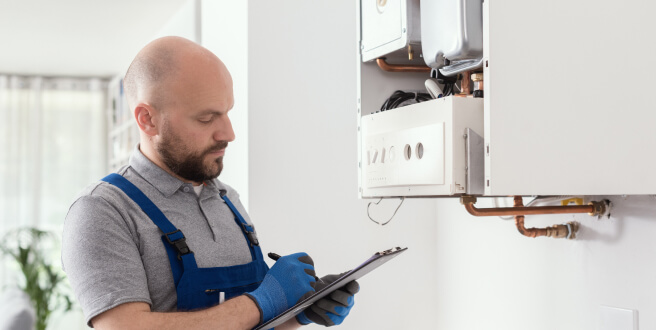 Boiler cover
Keep your existing boiler covered with 24/7 support from just £19.99 a month.
Learn more
Standing charges explained
If you look through your gas or electricity bill, on top of the amount you're paying per unit of power, you'll probably notice another, extra fee that you're paying each day - the standing charge. But what is it?
In This Guide:
What is a standing charge?
In the UK in 2022, households on variable tariffs paid an average of 34p per kilowatt hour of electricity and 10.3p per kilowatt hour of gas.
But the cost of your energy supply won't just include these per unit prices. It will also encompass a daily flat fee, called a standing charge, that covers the other costs your supplier incurs for providing you with energy. These include the costs of keeping your home connected to the energy network, conducting meter readings, and servicing your account. It will also cover policy costs incurred by suppliers in support of government schemes, including the assistance of vulnerable households with energy bills and the support of renewable energy technology and industry reduction of carbon emissions.
You'll incur the standing charge every day your property has an energy connection, whether or not you use any gas or electricity that day.
Think of the standing charge on your energy bills like the line rental you pay on your landline phone connection, levied for the upkeep of the line, whether or not you make any calls, with the calls-or your energy use-added on as extra.
How much are standing charges?
Standing charges are assessed per day and range between 10p and 80p for electricity connections and 5p to 60p per day for gas. And while you may have that amount as change currently in your pockets, standing charges can add up over time. So it might be more helpful to account for those costs yearly.
Standing charges vary based on tariff, the way you pay for your energy, and the region you live in.
You can save on standing charges by setting up a direct debit for your energy, sparing your energy company the cost of processing your monthly cheques and chasing them down if they don't appear. Customers paying by credit card paid an average standing charge of £94.72 per annum for electricity, compared to the £70.85 paid by customers with direct debits. Meanwhile, the standing charges for gas averaged £109.60 per yer for customers paying by credit, and £79.83 per year for those paying with direct debit.
Standing charges on pre-payment tariffs will typically be less than average. In 2018, they averaged £78.27 per year for electricity and £80.63 per year for gas. This reflects the lower costs associated with pre-payment accounts. Because these households are paying for energy directly at the meter, in advance, energy firms don't have to issue them with bills, process payments, or take meter readings. However, the savings for consumers in lower service charges are offset by the higher per-unit cost of electricity and gas on pre-payment tariffs.
How do you account for standing charges?
You can find the standing charge for your current energy tariff on your bill, usually denoted as a daily unit rate.
When shopping for a new supplier and comparing tariffs, you should look beyond the headline price for information about the daily, and yearly, level of the standing charge.
Standing charges are one of the costs, and discounts, included the calculation for tariff comparison rates (TCR)-a figure that gives the true cost of an energy supply in pence per kilowatt hour, so tariffs can be easily compared.
Can you save money with a tariff without a standing charge?
In 2016, following a recommendation from the Competition and Markets Authority (CMA), energy market watchdog Ofgem removed the requirement for energy tariffs to have a standing charge. In the years since, a few suppliers have started offering zero standing charge tariffs or tariffs with very low standing charges. Enter your postcode at the top of this page, or visit our energy price comparison page, to see if you can find a supplier who won't make you pay a standing charge.
For example:
Nonprofit supplier Ebico offers a variable rate Zero tariff with no standing charge
Utilitia, which specialises in smart pre-payment tariffs, offers no standing charge on any of its PAYG tariffs.
Eversmart Energy offers a tariff called Goodbye Standing Charge, which bids adieu to that daily charge, although the supplier cautions that you'll pay a higher per-unit rate for gas and electricity. Otherwise, Eversmart claims to offer some of the lowest standing charges on the market-10.5p a day for most of their tariffs, or £38.33 a year.
But while you might be tempted to go with a zero standing charge tariff and knock the £75 to £100 flat fee off your annual energy costs, understand that these suppliers often increase the per unit rate on gas and electricity on these tariffs to compensate. It works out that if your energy use is average, a zero standing charge tariff won't save you money over one with a standing charge. In fact, you'll likely end up paying more without a standing charge, especially if your energy use is higher than average.
But there are some circumstances in which it makes sense to forgo a standing charge. If you have a home that's occupied only part of the year, such as a holiday home, you won't want to be paying daily for an energy connection you're not using. Similarly, if you have a separate energy supply for a detached garage or barn and aren't heating or lighting it all the time, or only using small amounts of energy to do, you also might want to consider a zero or low standing charge tariff.
In general, the less energy you use, the higher portion of your bill will be a standing charge and the more sense-and pence-it might make to go with a tariff without one.
Standing charges for empty properties
If you take over possession of a property that's empty and has a gas and electricity supply but isn't using any energy, you may be able to have the standing charge waived. Doing so will be easier than cancelling the supply, as it won't require the property be reconnected when it is again occupied.
To have a standing charge waived, you'll need to contact the empty property's energy supplier and provide proof, including meter readings, that you haven't used any energy since you took possession.