Last updated: 01/08/2023 | Estimated Reading Time: 6 minutes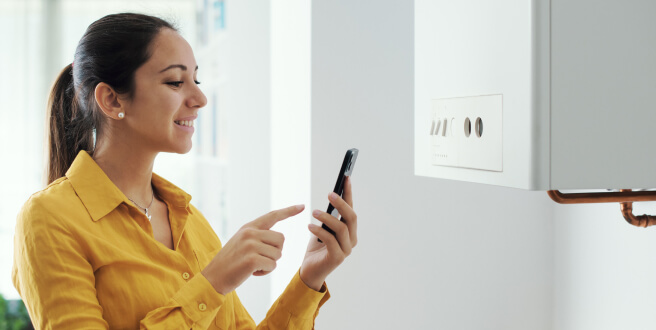 Fixed price boiler installation
Save up to £585 per year by replacing your boiler! For just £22 a month with no deposit and a 10 year warranty.
Learn more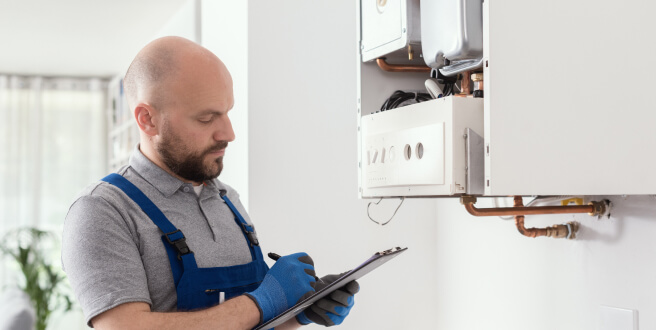 Boiler cover
Keep your existing boiler covered with 24/7 support from just £19.99 a month.
Learn more
What happens to my energy supply when I move house?
During any average month in the UK, 100,000 households will move house, each confronting a checklist of chores that range from boxing up all their possessions to updating their address to sorting out their utilities.
As soon as you move in the lights will turn on, the boiler will heat water and rooms, but be cautious because you could be paying well over the odds for this gas and electricity.
To ensure you don't end up incurring extra charges for your energy use, and at a time when you're facing many additional costs-from deposits to man and van services-and to make your move as seamless as possible, follow these steps with your energy supply and tariff when moving house.
In This Guide:
Before you move
Get in touch with your current supplier:
You're obligated to contact your current energy supplier at least 48 hours before your move, telling them the date of your move and your new address, so they can send you your final bill. If you're on a fixed energy tariff with a set end date, you may incur early termination fees for exiting it early. early' is typically defined as any time before 49 days prior to the stated expiry date, outside of the so-called switching window.'
Take a meter reading on the day you move and provide it to the supplier:
To avoid being overcharged by your energy supplier, or charged for any energy used by the next occupants of the home, take a meter reading on the day you vacate the property. Give it to your current energy supplier and also make note of it yourself, so you can refer back to it if disputes arise. If you're a renter, you should also pass along and confirm these meter readings with your landlord.
Tell future occupants about the current energy supplier:
As a courtesy to the next residents of your home, you may want to notify them of the current energy supplier of the property, which they will need to contact when they move in (as you will too on the other side of your move). You can leave a note for them or tell this information to your estate agent or, if you're a renter, your landlord.
After you move
Take a meter reading:
To ensure you're only charged for your own energy consumption and not that of previous tenants, one of your first steps upon moving into a property-at least before you run a bath in your new tub and fire up the Aga to make dinner-should be to take a meter reading. Note down the current readings for both electricity and gas. You'll need to provide these to the current supplier of the property.
Find out the current supplier of the property:
Maybe you'll get lucky and the previous residents of the home will be as helpful as you were at your last address and will have left you a note telling you who supplies the property's electricity, gas, or both, or conveyed that information to the estate agent or landlord.
If you're moved into a new-build property, the developer should hold this information. But if no help is forthcoming, follow these steps to determine a property's energy supplier(s):
Electricity: Call your regional electricity distribution company and ask for the meter point administration service (MPAS). They have access to the Electricity Central Online Enquiry Service (ECOES), a database listing the electricity supplier of every address in the UK. Give them your address and they'll be able to tell you its current electricity supplier.
Gas: Call the Meter Number Helpline on 0870 608 1524 and provide them with your Meter Point Reference Number (MPRN), a unique six- to 10-digit supply reference code you should be able to find on your gas meter. If you're having difficulty locating this number, the Meter Number Helpline should be able to guide you to it. Once they have this code, they'll be able to tell you the property's current gas supplier.
Get in contact with the current supplier:
You'll need to give that move-in day meter reading to the property's current supplier. They'll eventually send you a bill for any energy you've use. Note that if you're purchased the property, you'll be responsible for any energy consumed since the date you assumed ownership of it, whether or not that's when you moved in. Although the property may be vacant before you move in and not using energy, you'll still be incurring a standing charge for the supply.
Compare energy and switch for savings:
When you first move into a property, you'll be placed on a so-called deemed tariff' (meaning one you didn't personally select) with that current energy supplier. Deemed tariffs are typically the supplier's standard or default tariff and can be more expensive than the energy deal you left behind, particularly if you previously had a fixed rate tariff. You'll typically want to switch energy supplier as soon as you're settled, comparing energy to find the best details available in your new postcode. And don't just automatically select the supplier from your old property out of loyalty or familiarity. The rates they offer may be different in your new area, or can be beat by another supplier. Studies have shown that shopping around and switching energy provider can save households more than £300 on their annual energy bills. Take advantage of your move to find the best energy deal for your household and needs.
Switch, even if you're a renter:
If you moved into a rented property, the way the energy supply is arranged and paid for should be detailed in the tenancy agreement. Either you'll be responsible for arranging and paying for the supply yourself, or the landlord will and will charge you or it, either rolling the cost into your rent or billing you separately.
If you're responsible for the supply, you're allowed to switch whenever you want, without seeking approval from your landlord. It is common courtesy to notify them when you switch however, so they can provide up-to-date information about the supply to their next tenants. If your landlord arranges and pays directly for the property's energy, you can ask them to switch the supplier, but they're not obligated to do so.
Switching is simple though, either way - head over to our gas and electricity price comparison page, or enter your postcode at the top of this page, and see how much you could save.