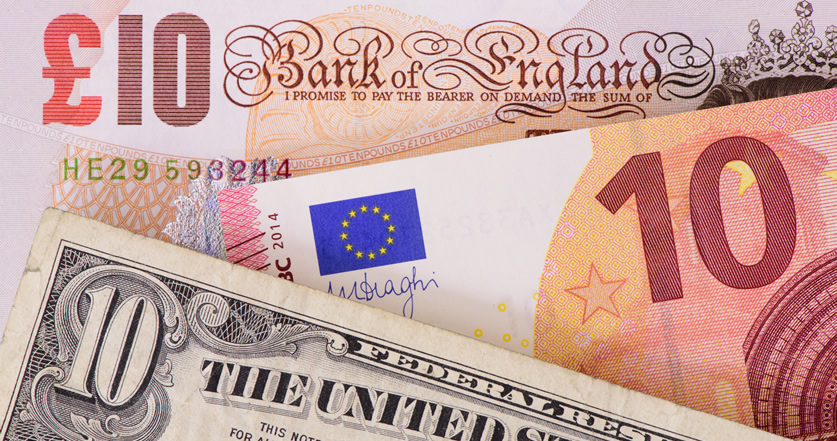 Pound Falls Again as Threat of No-Deal Brexit Increases
The pound continued to fall today to hit a 28-month low against the dollar due to the growing threat of a no-deal Brexit.
Sterling fell to below 1.09 Euros early on Tuesday, while it also fell to just 1.21 US Dollars – the lowest it has been since March 2017. It comes as the government under new Prime Minister Boris Johnson is insisting it is preparing for the UK to leave the EU without a deal on October 31.
It's even worse news for the millions of Brits heading abroad this summer as the exchange rates on offer at airports are significantly lower. According to The Independent, £117 was needed to buy €100 at the International Currency Exchange office at Heathrow Airport on Monday night, meaning a pound was worth just 85 euro cents. Similarly, at Gatwick Airport £116 was needed to buy €100.
"Unfortunately holiday makers are going to experience a pretty horrendous summer," said James Hickman, commercial manager at FairFX. "If they are visiting Europe they could be getting less than parity for their pounds when buying euros, and they will be getting a poor dollar rate if going to the USA. It is going to get worse. The market is digesting the news that it is almost inevitably going to be a hard Brexit. For anyone going abroad in August, it is going to be a very expensive time."
Just before the Brexit referendum in 2016, the pound was trading at around $1.50, but it fell by 2.4% against the dollar on Monday alone. This drop was fuelled by market uncertainty after a Downing Street spokesperson said the government will refuse to enter negotiations with the EU over a deal unless the Irish backstop is ruled out.
During a visit north of the border in Scotland, Boris Johnson said: "My approach is to be very outward going. I don't want the UK to be aloof or hanging back. I want us to engage, to hold out the hand, to go the extra thousand miles, and what we want to do is make it absolutely clear that the backstop is no good, it's dead, it's got to go.
"The Withdrawal Agreement is dead, it's got to go. But there is scope for us to do a new deal. We will make it very clear to our friends – we're talking to the Irish today – what the limits are and what we want to do. We're very confident that with goodwill on both sides, two mature political entities, the UK and EU, can get this thing done."
Neil Wilson, market analyst at Markets.com, said: "All the stops are out and the pound is now in free fall. There is now a very real chance that the pound will fall to $1.20 and even below. Remember the previous post-2016 low was before no-deal was on the table – it was all talk of a hard v soft Brexit – no deal wasn't even being discussed."