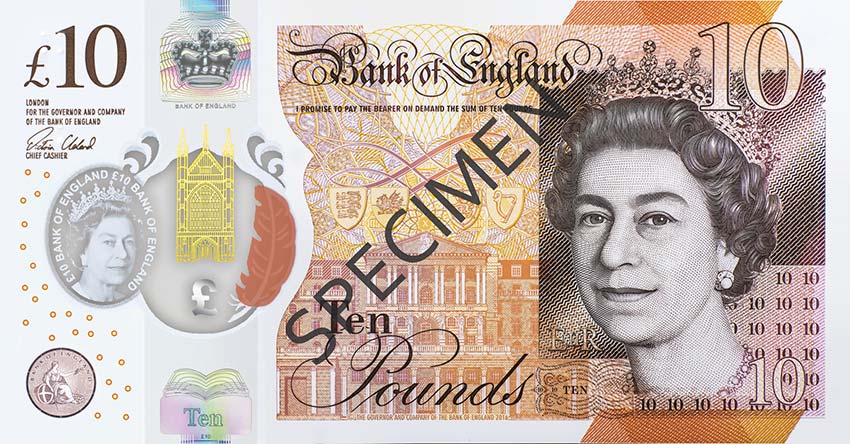 New £10 Notes Released - Could Yours be Worth Thousands?
The new polymer £10 notes featuring Jane Austin entered circulation on Thursday the 14th of September.
Managing to get your hands on one of these notes early on could prove to be lucrative, as some of the notes will be worth a lot more than just £10. Checking the serial of your £10 notes will let you know whether it could potentially be worth thousands of pounds. Unique or special serial numbers are attractive to collectors and could end up making a new £10 note worth much more.
The website ChangeChecker.org details how the serial numbers work, and tracks and estimates how they could change in value. The serial numbers show when the note was printed. The brand new notes entering circulation first start with the prefix of AA01 and will go up to AA54, because 54 notes will be printed on each sheet. The first two letters are followed by eight numbers, which run from 000001 to 999000.
Collectors tend to value the lower serial numbers, denoting the earliest printing runs. However, bear in mind that it's very hard to get a hold of the first four notes printed, as they are given to the Queen, Prince Philip, the Prime Minister, and the Chancellor respectively. The Bank of England also holds back some other early-printed notes to give to museums and other institutions.
Simon Narbeth, a specialist paper money dealer has claimed that the first million £10 notes will all contain a prefix of AA01 which could make them worth around £50.
It's also worth bearing in mind that interesting numbers are collectable as well as the low numbers. James Bond's 007 code proves popular, and as does AK47, after the well-known assault rifle. There are also some specific numbers linked to Jane Austen which will likely prove popular with collectors of the new £10 note.
ChangeChecker.com reckons these will include: 16 121775, 18 071817, and 17 751817, which are the dates of Jane Austen's birth, death, and the two years combined. Serial number 28 011813, the date which the author published her novel 'Pride and Prejudice' will probably also prove popular. However, if it's too much to remember such long sequences of numbers, then watch out for JA01, JA75 and JA17, as these represent Austen's initials and her birth and death years, although it will be many years before the Bank of England gets through all the different prefixes before these ones come roll off the printing press.
The new £10 is now the second polymer note to have entered circulation in the UK, after the new £5 notes were introduced last year. By 2020, the £20 note will also have been replaced with a new polymer version, which will feature a portrait of the painter JMW Turner.