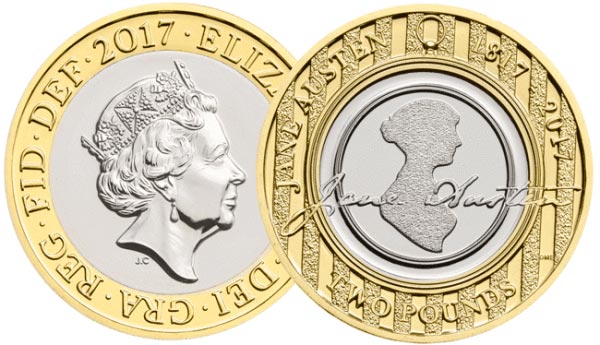 New £2 Jane Austen coins see limited locations for circulation, but are they be worth all the hype?
Marking the 200th year anniversary of the famous author's death, a brand new £2 Jane Austen coin has been put into circulation by the Royal Mint on the 18th of July. With the launch of this coin, some have said that it may be worth hundreds, if not thousands, following a rare 50p coin being auctioned on eBay for thousands last week.
The new coin design consists of an emblazoned figure of the author, with her signature against a setting of traditional wallpaper. A considerable amount of the hype was additionally about the unveiling of a new Jane Austen ten pound note. This will however not be entering circulation until sometime in September. To add the hype of the release, it was revealed that the coins have only been circulated in a very few locations throughout Hampshire, which have special connotations with the late author. These consist of Winchester Cathedral (the author's burial place),as well as the Jane Austen Museum and Basingstoke- the birthplace of Jane Austen.
The designer, Dominique Evans had to say about the coin, that he thoroughly enjoyed the research involved, from the start of the project, through its lifespan. He would often envisage her figure as though it were a feature in one the late author's captivating novels- perhaps found hanging from the wall of a passageway in that of "Pride and Prejudice" or possibly "Emma".
Uncirculated editions of the coin, minted from precious metals are also available directly from the Royal Mint. Already some of those lucky enough to have obtained on of these circulated coins have begun listing them online at inflated prices, but whether or not it will become a future collector's item will depend on just how many of these end up in circulation.
During March of 2016, Peter Rabbit 50p coins started their circulation within Lake District, with many being sold on eBay soon after at far higher prices. However, more recent figures show that eventually 9.6 million of these coins became available, rendering them fairly common- and bringing down the price. Similarly, Charles Dickens and Florence Nightingale coins entered circulation to commemorate their deaths, but they have been minted 8.1 and 6.1 million times respectively.
Royal Mint figures do nonetheless indicate that four out of the five of the rarest £2 coins were commemorative issues minted for the 2002 Commonwealth Games, all having been minted less than 1 million times, with the fifth scarcest being 2015 £2 navy coin of First World War. The £2 has only been minted less than 1 million times, for four other coins- this list includes a handover coin of London 2012, a commemorative coin of the 2008 Olympics, a handover of the 2008 Olympics and a 2011 coin of the King James Bible.
Whether or not the Jane Austen £2 coin will enter these auspicious ranks is anyone's guess and we will just have to wait and see.