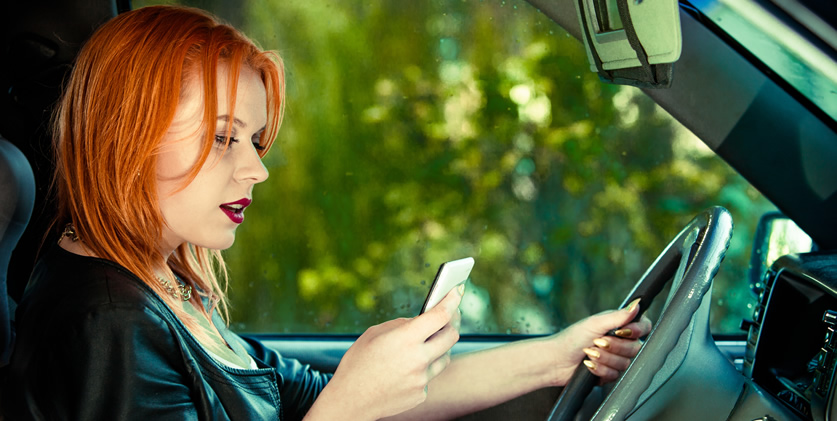 Quarter of Young Drivers Browse Social Media at Wheel
Almost one in four young motorists in the UK check their social media accounts whilst driving, according to Privilege Car Insurance.
The car insurance provider conducted a survey of 2,000 British adults, with 23% of 18-34-year-olds admitting to checking either Facebook, Twitter, Instagram or Snapchat whilst behind the wheel. When taking all ages into account, just 11% of drivers admitted to doing the same.
The poll asked motorists about a range of bad driving habits and found that the younger generation – or millennials – were by far the worst offenders of all age groups. Young peoples' dependence on smartphones was in further evidence as 28% of millennials admitted to reading and/or sending text messages whilst driving, while just 15% of all drivers do the same. 6% of young drivers said they send text messages whilst driving every single day, and 5% check social media every day.
Any motorist in the UK who is caught using their mobile phone behind the wheel, even while stationary in traffic, face prosecution for breaking the law. Guilty drivers could be hit with six penalty points on their license and even a £1,000 fine. Any prosecuted driver will also find it more difficult, not to mention expensive, to take out or renew their car insurance in the future.
17% of young drivers have got into a heated argument with one of their passengers whilst driving, compared to just 11% of drivers overall. 13% of millennials said they crashed their car because they weren't concentrating enough, higher than the 9% of total drivers who admitted the same. And 33% of young drivers said they slowed down to take a closer look at another car crash, compared to just 19% of all drivers admitting this.
Bad driving habits were not only confined to young motorists, however. 33% of women in the survey admitted to checking their hair or makeup in their rear-view mirror. The same proportion of women said they had looked for belongings in their handbags whilst driving.
Alarmingly, 4% of all drivers in the UK believe they're not very good at driving, with nearly a million motorists in the country saying their friends and families are skeptical about getting into the car with them.
The most common bad driving habit amongst motorists of all age groups was accelerating through an amber light just before it goes red, with 56% of respondents admitting this offence. The next most common offence was eating or drinking whilst behind the wheel, with 50% of drivers saying they had done so.
"We all develop bad driving habits, many of which can make us less safe on the road, but it's particularly worrying to see the impact of social media on our driving," said Charlotte Fielding, head of Privilege Car Insurance. "We want to encourage all drivers to be as safe as possible, taking care of themselves, passengers and others on the road, and this includes ensuring concentration levels remain high. Hopefully by identifying some of our worst habits, we can create more awareness among drivers, which will help to eliminate them."